Several US presidents in the past century have been caught up in sex scandals. Others have faced accusations of sexual misconduct.
Franklin D. Roosevelt cheated with his wife's secretary, records show.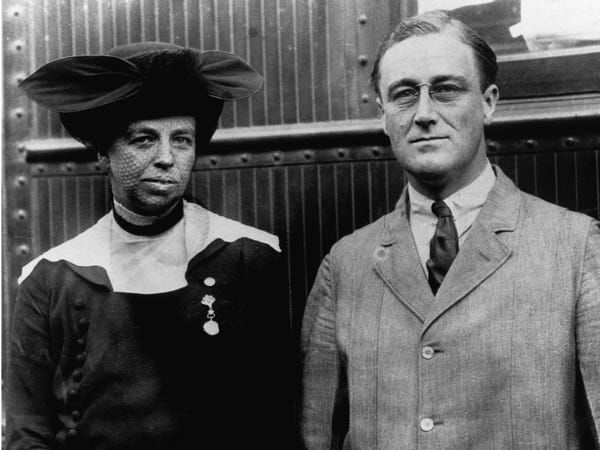 Roosevelt, who was in office from 1933 until his death in 1945, had a longtime affair with his wife's secretary, according to The New York Times.
FDR married Eleanor Roosevelt, his fifth cousin once removed, in 1905. He later engaged in a romantic affair with Lucy Mercer Rutherfurd, who became Eleanor's social secretary in 1914, according to historic records maintained by the National Park Service.
When Eleanor found out about the affair in 1918 after finding Rutherfurd's letters among her husband's things, she offered him a divorce, but his mother would not allow it, PBS reported.
The couple continued a civil marriage, but there's some evidence Roosevelt's affair with Rutherfurd likely continued during his presidency, according to The Times.
Dwight D. Eisenhower reportedly had an affair while serving in World War II.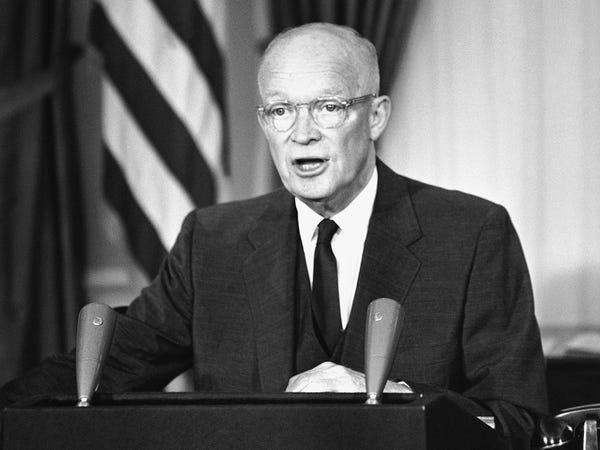 The 34th president, who served from 1953 to 1961, was married to his wife, Mamie, from 1916 to his death in 1969.

But there were whispers for years that he had an affair with his chauffeur, Capt. Kay Summersby, while he was serving as a WWII general.

The allegations heightened when President Harry S. Truman said Eisenhower wrote to a general during the war asking to return to the US to divorce Mamie so that he could marry Summersby, The New York Times reported in 1991.

The general whom Eisenhower propositioned threatened to run him "out of the Army" and keep him from "ever drawing a peaceful breath" again, The Times said.

Several women said they had affairs with John F. Kennedy.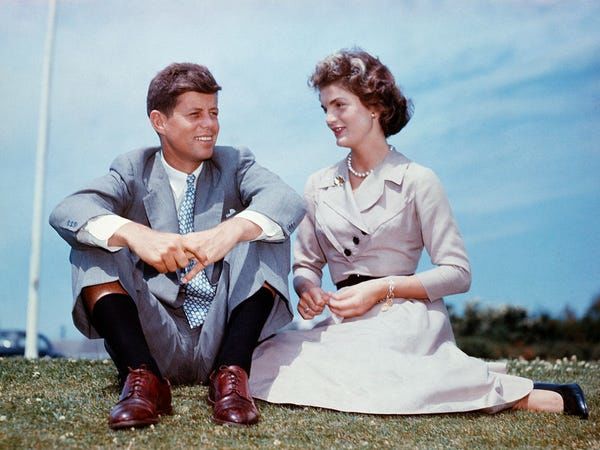 Kennedy, who was the 35th president of the US and often considered one of the most attractive, married Jacqueline Bouvier in 1953.

Even before Kennedy's 1963 assassination, there were rumors that he'd had extramarital affairs, according to People. Following his death, several women — from college students to White House staffers — alleged they had affairs with the president.

The former first lady didn't appear naive to the rumors. A 2012 story in The Atlantic said he had liaisons with secretaries named Priscilla Wear and Jill Cowen, with whom he would go skinny dipping in the White House swimming pool.

It's been widely reported that while the first lady was giving a French reporter a tour of the presidential home, she passed by one of the secretaries' desks and said in French: "This is the girl who supposedly is sleeping with my husband."

For his 45th birthday, Kennedy was famously serenaded by the actor Marilyn Monroe, which prompted widespread rumors that the two had a love affair, according to Glamour. While the public musings ran wild, the affair has never been confirmed, and the Monroe biographer Donald Spoto has said the pair only met four times.

Lyndon B. Johnson is said to have had multiple affairs that his wife ignored.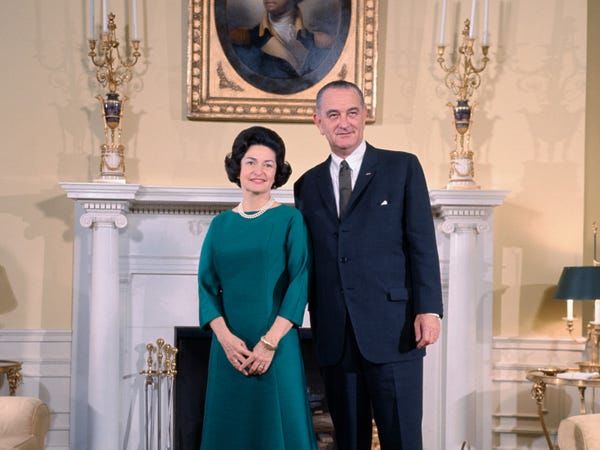 Johnson, who served from 1963 to 1969, had a long marriage with his wife, Lady Bird Johnson, though he did stray from it. They married in 1934, and a few years later, Johnson began an affair with a woman named Alice Glass, according to Texas Monthly.

His wife never publicly responded to the affair, saying simply that she "never saw that side" of her husband, Texas Monthly said. But she did spend more time away from Johnson and begin a weight-loss and self-beautification effort, opting for "sexier clothes Johnson liked," the outlet reported.

Still, Johnson is said to have continued has escapades, including an affair with a White House staffer named Helen Gahagan Douglas, according to The Oklahoman. The president also paid child support for years to another woman who said he fathered her child, the outlet reported.

Gerald R. Ford reportedly had an affair with a German spy who was later deported.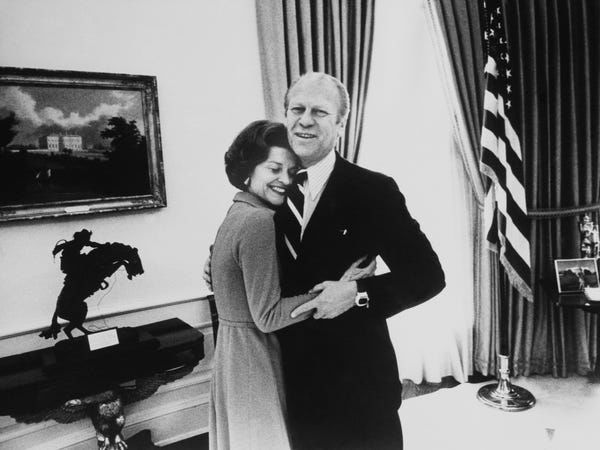 Ford was one of two presidents — the other being Kennedy — who was accused of having an affair with an East German spy named Ellen Rometsch. The accusations came from a former Senate staffer named Bobby Baker, who worked closely with Johnson, according to The Washington Post.

In an interview with Politico, Baker said he had introduced Rometsch — who he said "really loved oral sex" — to Kennedy, who thanked his friend for the "best head-job he'd ever had."

Baker also alleged that Rometsch had sexual encounters with Ford when he was a congressman, saying the FBI had a "tape where Jerry Ford was having oral sex with Ellen Rometsch." Rometsch would later be deported to East Germany, according to the New York Daily News.

David Horrocks, the former chief archivist of the Gerald R. Ford Presidential Library and Museum, told Politico he found the accusations "hard to believe" and "so out of character for the Ford that I knew."

Ford served as president from 1974 to 1977 and had a decades-long marriage to Betty Ford.

George H. W. Bush's wife was suicidal over his affair, her biography says.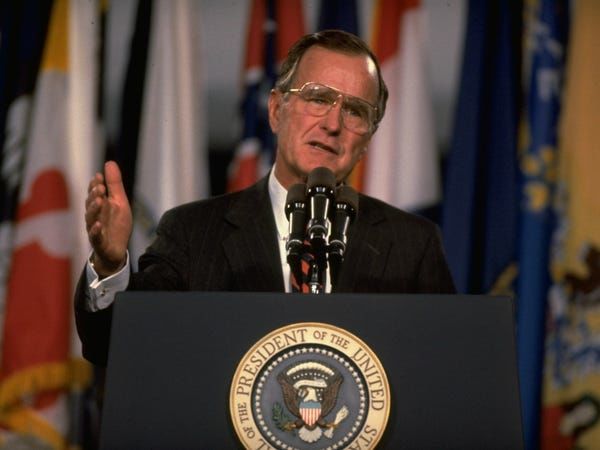 Bush, the one-term president from 1989 to 1993, was married to his wife, Barbara, from 1945 until his death in 2018. The couple were said to have a storybook romance over their 73-year marriage.

But the story had painful chapters. Susan Page's "The Matriarch: Barbara Bush and the Making of an American Dynasty" says Barbara was suicidal in the 1970s after her husband was accused of having an affair with his aide Jennifer Fitzgerald.

Rumors persisted for years of the affair, which all parties publicly denied.

But Barbara told Page she tearfully relayed to her husband how empty she felt because of his affair, according to the biography. Another biographer, Randy Taraborrelli, says in his book "Grace & Steel" it was a "long 18-year affair."

Aside from Bill Clinton's multiple affair allegations, he was accused of sexual assault.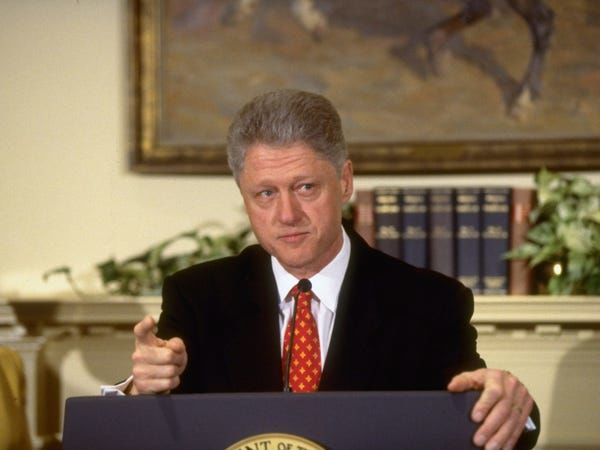 Clinton's affair with the White House intern Monica Lewinsky became national news and a cornerstone of his impeachment trial in the 1990s.

He famously denied the allegations at first, telling his family and the nation that he "did not have sexual relations with that woman." Evidence of the affair would later come to light, and Clinton confessed, according to The New York Times.

Multiple women have accused Clinton of sexual assault and rape over his career, including Juanita Broaddrick, Paula Jones, Kathleen Willey, and Leslie Millwee. Four other women have said they had affairs with Clinton, all while he was married to Hillary Clinton.

Clinton has denied all of the misconduct allegations against him, including those made by four other women who say they had consensual extramarital relationships with him.

Bill Clinton held presidential office from 1993 to 2001, and he and Hillary have been married since 1975.

George W. Bush was accused of assault by a woman who later died by suicide.

Bush, who served from 2001 to 2009, was on the receiving end of a sexual-assault claim that gained little attention at the time in American media.

A Texas woman named Margie Schoedinger filed a lawsuit against Bush in 2002, accusing him of raping her in 2000. But few details of the civil suit gained media attention, and Schoedinger died by suicide in 2003. The following year, attorneys for Bush filed a motion to dismiss the case, and it was dismissed shortly thereafter for want of prosecution.

At about the same time, a woman named Tammy Phillips said she had an affair with Bush. But even the National Enquirer determined she wasn't being truthful, according to Texas Monthly.

Bush has been married to his wife Laura since 1977.

Donald Trump has an extensive history of misconduct allegations and affair rumors.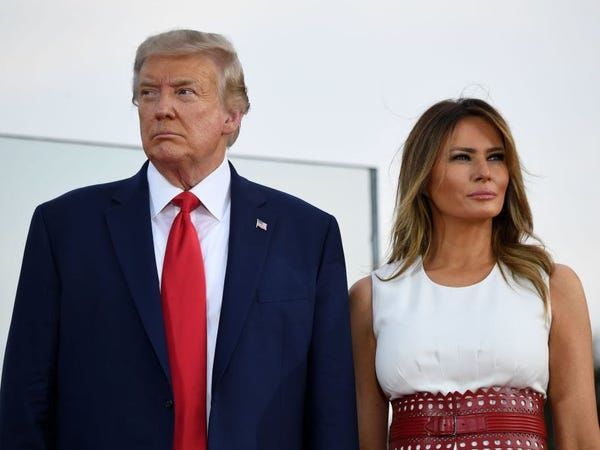 Trump had affair and sexual-assault accusations, as well as other sex scandals, that predated his time in office — which was from 2017 to 2021 — but many came to light through media reports during his presidency.

His first marriage, to Ivana Trump, dissolved when he began an affair with the model Marla Maples, whom he would later marry. He and Maples announced their divorce in 1997, and shortly afterward, he was with Melania Knauss, now Trump. They married in 2005.

The adult-film star Stormy Daniels said she had a sexual encounter with Trump in 2006, a story that made national news in 2018. Trump denied he had such a rendezvous, which Daniels said took place while Trump's wife, Melania, was pregnant.

Trump also denied that his personal lawyer facilitated a $130,000 payment to Daniels ahead of the 2016 election to keep her from going public with her story. Trump, who had long denied the affair, appeared to acknowledge it in a January 2023 Truth Social post in which he said it "happened a long time ago."

At least 26 women — several of whom came forward during Trump's 2016 presidential campaign with detailed accounts and lawsuits — have accused Trump of sexual misconduct or assault, which he has denied.

The columnist E. Jean Carroll has two separate lawsuits against Trump, both connected to her allegation that he raped her in a Bergdorf Goodman dressing room in the mid-1990s. Trump has denied her allegations.