'Cartier and Women' highlights impact of Chinese aesthetics on women's lifestyles and fashion around the world, museum director says.
The Hong Kong Palace Museum will display about 300 pieces of women's jewellery, accessories and other precious objects created by Cartier starting from Friday, after four and a half years of preparation by the curator.

Apart from celebrating the influence of women on the French jewellery house through creations spanning the 19th century to the present day, the four-month showcase "Cartier and Women" would highlight the impact of Chinese aesthetics on women's lifestyles and fashion, said Louis Ng Chi-wa, director of the museum on Tuesday.

Ng said he hoped the exhibition would convey to visitors the changes in women's lives and social status, as well as the influence of the elements of different countries on jewellery design and creation.

"This exhibition implements the founding philosophy of the museum, that is, we promote dialogue and exchanges between different civilisations and connect China with the outside world," he said. "Economic and cultural exchanges around the world began to resume after the Covid-19 pandemic. This exhibition shows the importance of cultural exchange and Hong Kong's ability to promote international cultural events and attract Chinese and foreign tourists."

Divided into four sections, the exhibition delves into the stories of the bond between women and jewellery, focusing on how Chinese art and culture inspired Cartier's creation in areas such as style, motif, materials and craftsmanship.

Daisy Wang Yiyou, deputy director of curatorial and programming for the museum, said it selected items influenced by China because the institution was committed to the study and appreciation of the country's art and culture and enhancing the city's status as a hub for exchange.

"This exhibition is about cultural exchanges between China and the world, in particular Europe and France," she said.

The first section, "Royal and Aristocratic Women: Elegance and Prestige", highlights the role of women from nobility and the social elite in the early history of Cartier in the 19th century.

Among the artefacts on display are items owned by Princess Mathilde Bonaparte, who was Cartier's first royal patron, and Princess Marie Bonaparte, niece and great-grandniece, respectively, of the French emperor Napoleon.

The second section, "New Women: Breaking with Tradition", explores developments in jewellery design. It features Jeanne Toussaint, Cartier's first female creative director who revolutionised modern and contemporary jewellery and her creations.

One of her pieces on display is a panther clip brooch made of platinum, white gold, diamonds and sapphires. Made in 1949 for the Duchess of Windsor, it is said to represent women's strong personalities and rising status.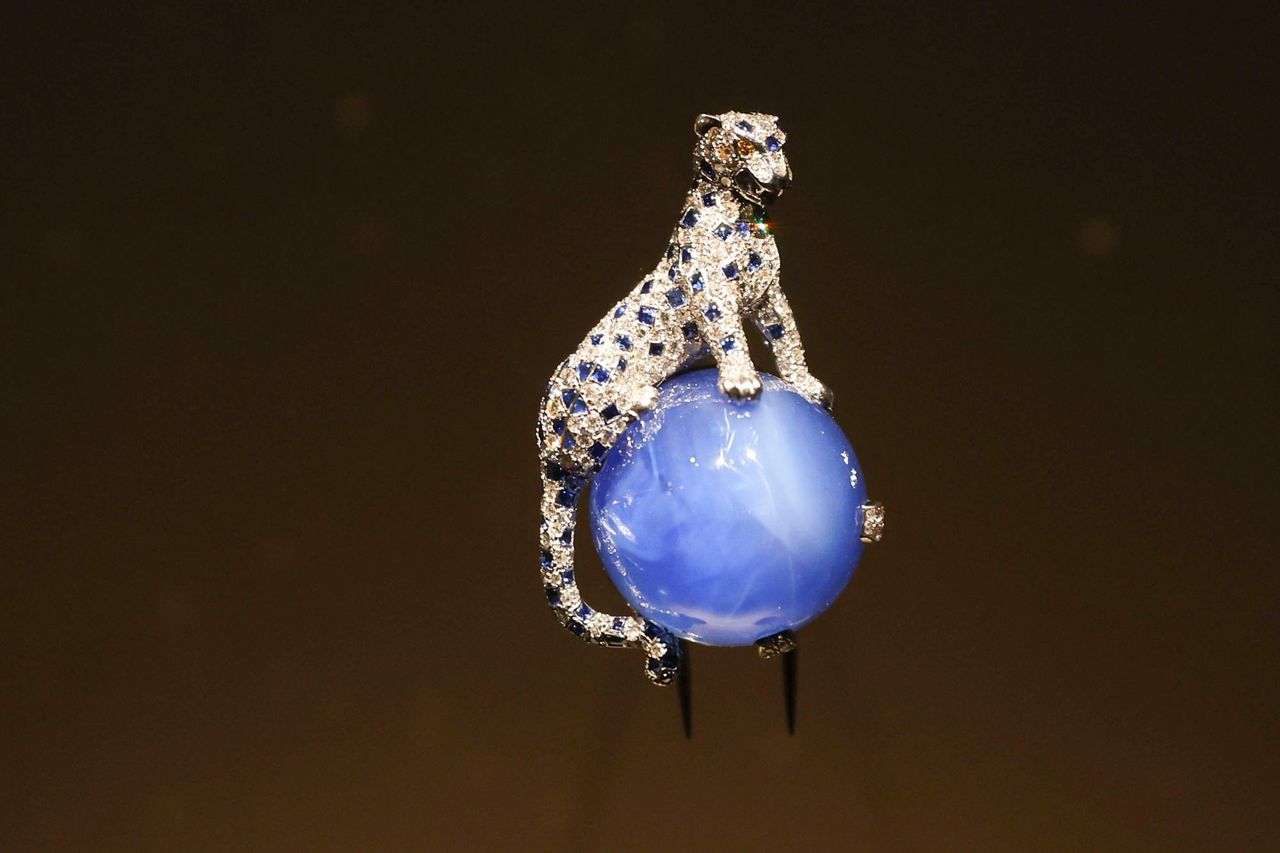 This Panther clip brooch was created by Jeanne Toussaint, Cartier's first female creative director.

Also on display is a necklace made of 27 large jadeite beads as a wedding gift for American socialite Barbara Hutton in 1934. Jade has been a symbol of wealth and status in Chinese decorative art, and Wang said the heiress had been interested in the country.

More elements of Chinese art and other places can be found in the exhibition's third section, "Inquisitive Women: Cross-cultural Inspirations", where artefacts such as a Chinese-style vanity case made in 1928 are on display.

The case, made of gold, platinum, coral, jade, diamonds and other precious materials, features a garden scene with a lady on the inlaid plaque, which was modelled on a Chinese porcelain plate produced during Emperor Kangxi's rule (1662-1722).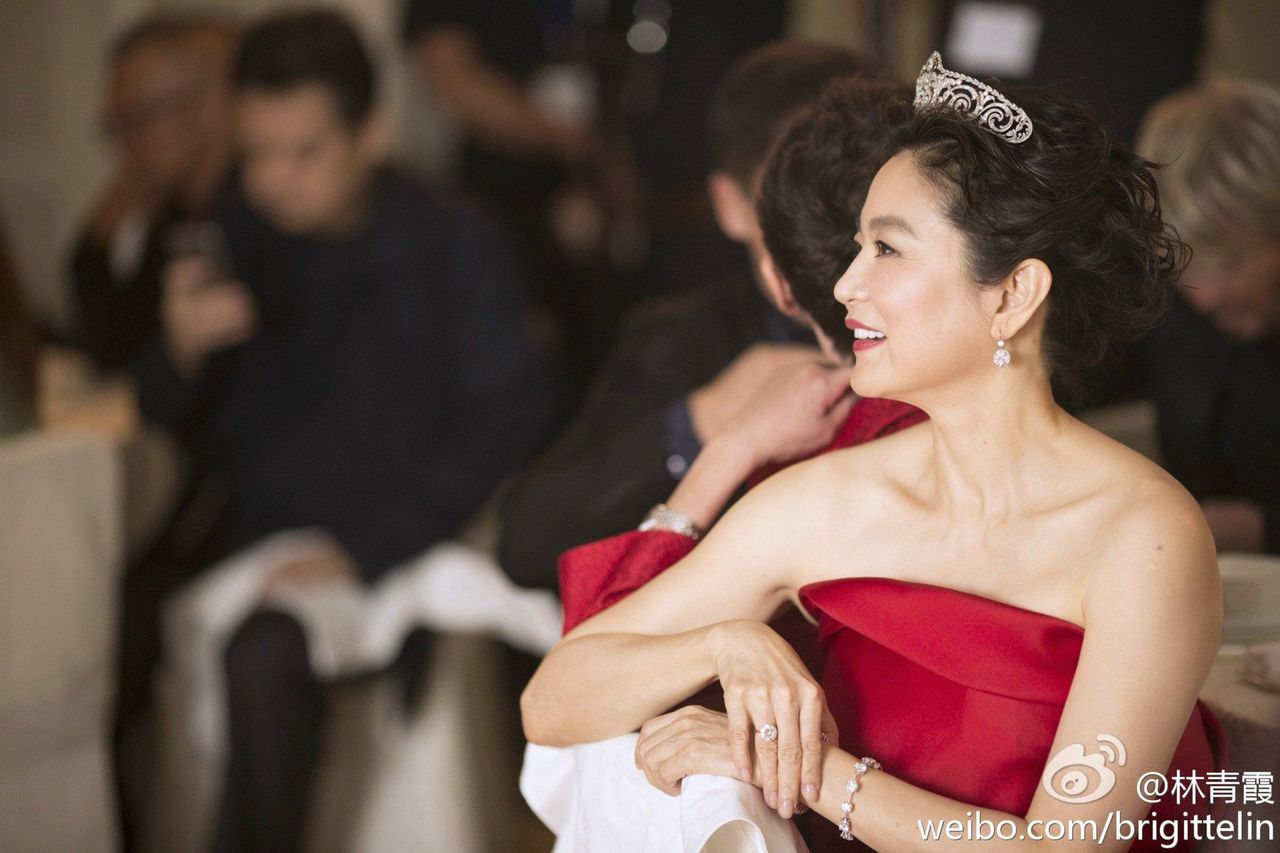 Brigitte Lin loaned this tiara to the museum for its new exhibition.

The fourth section, "Influential Women: Glamorous Legends", explores the relationship between jewellery and female icons in modern and contemporary times, featuring items from the collections of Hong Kong and international celebrities.

Highlights include pieces owned by American actress and princess of Monaco Grace Kelly and Hollywood star Elizabeth Taylor.

The section also features precious items from personal collections of famous Hong Kong actresses Brigitte Lin Ching-hsia and Carina Lau Ka-ling, including a tiara made in 1919 of platinum and diamonds, and a 1906 tiara, respectively, as well as exhibits from billionaire businesswoman Pansy Ho Chiu-king.