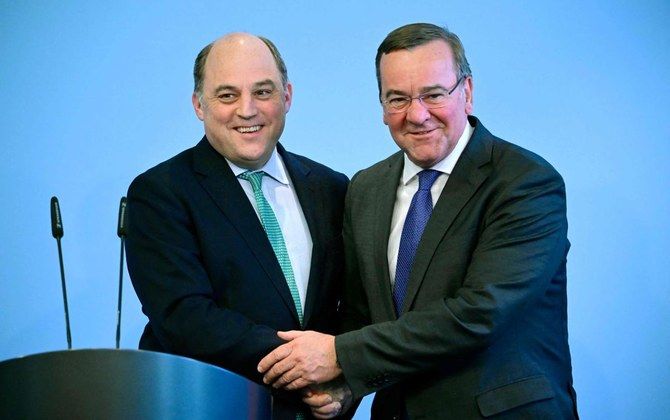 Britain, Germany say US must decide on jets for Ukraine
Any decision to send F16 fighter jets to Ukraine will fall on the White House, the UK and German defense ministers said Wednesday despite a jet "coalition" announced by Britain and the Netherlands this week.
"This is up to the White House to decide whether it wants to release that technology," British Defense Minister Ben Wallace said after talks with his German counterpart Boris Pistorius in Berlin.

"It depends on the White House... to decide whether the F16 fighter planes can be delivered," Pistorius added.

British Prime Minister Rishi Sunak and Dutch counterpart Mark Rutte had agreed on the fighter jet club on the first day of a Council of Europe summit in Iceland this week.

They said they would build an "international coalition to provide Ukraine with combat air capabilities, supporting with everything from training to procuring F16 jets."

However, Wallace pointed out that Britain has no F16 jets and also stressed that it was not planning to send anything from its Typhoon fleet.

"But we can help the pipeline... we can enable other people who wish to," he said.

Pistorius also said Germany could not "play an active role" in such an alliance "because we don't have the training capacity, the skills, or the aircraft."

Chancellor Olaf Scholz also said in Iceland that he did not see any direct "requirements" for Germany when it came to fighter jets.

Ukrainian President Volodymyr Zelensky has been pressing for fighter jets to help Ukraine repel Russia's invasion and repeated the request on a recent tour of European capitals.

Zelensky said in London he was "very positive" about creating a "jets coalition" in the war against Russia.