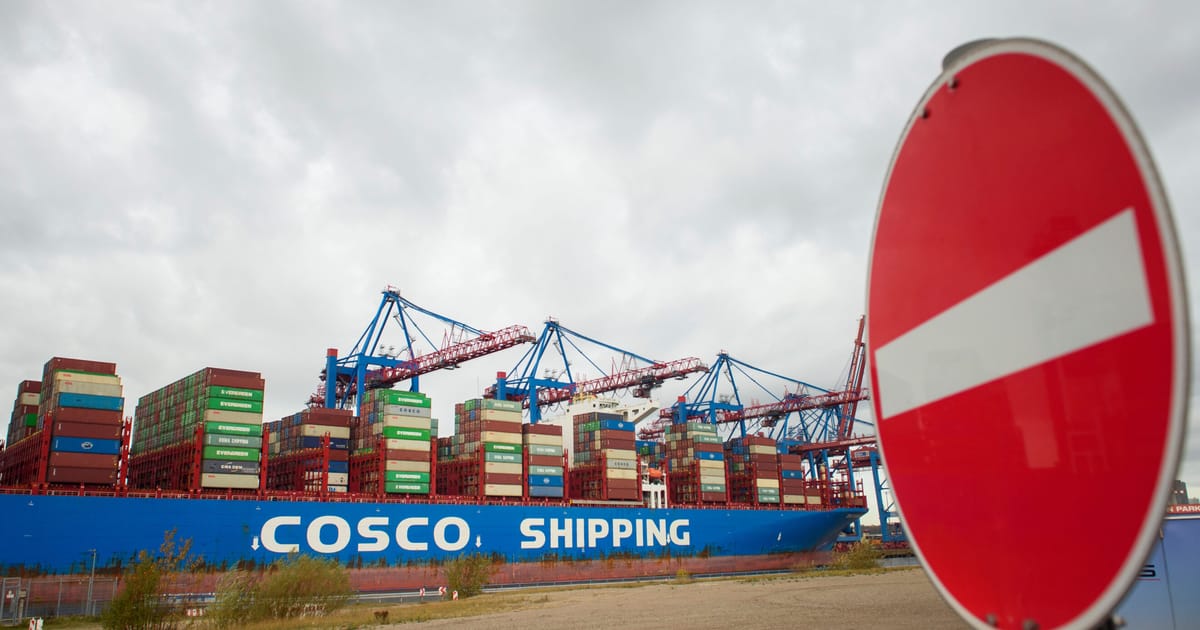 China's Hamburg port deal in doubt after German security assessment
Potential shift on key Chinese investment comes as Berlin urges Beijing to de-escalate tensions with Taiwan.
German Chancellor Olaf Scholz's controversial plan to sell parts of a Hamburg container terminal to China has been thrown into uncertainty after the country's security authorities declared the facility as "critical infrastructure."

Ahead of a state visit to Beijing last year, Scholz had strongly pushed for Chinese state company Cosco to be allowed to buy a minority stake in the Tollerort terminal in the Hamburg port, overruling concerns and objections from several ministers from his own government.

However, a sudden classification of the terminal as "critical infrastructure" by Germany's Federal Office for Information Security means that Berlin has to reassess the deal, and might end up banning it. A joint investigation by German public broadcasters WDR and NDR as well as daily Süddeutsche Zeitung first reported the new security assessment.

"Since the prerequisites have changed, we ... are examining the effects on the overall situation in our area of responsibility," a spokesperson for the German economy ministry told reporters at a regular press conference Wednesday.

The new security assessment is significant because even staunch defenders of the port deal, such as Hamburg's Social Democratic Mayor and close Scholz ally Peter Tschentscher, had repeatedly argued that China would and should not be given access to critical infrastructure. The logic of encouraging Chinese investment is that those ports would then be favored by Chinese shippers that take their business there.

The acquisition in Tollerort is part of a broader strategic gambit by Beijing to gain control over infrastructure critical to its globe-spanning Belt and Road trade initiative, a network of transport connections intended to link China's factories with rich Western markets.

Cosco already owns stakes in Europe's two largest ports at Rotterdam and Antwerp, while it also controls the port of Piraeus in Athens and is behind a scheme to expand an inland rail terminal at Duisburg where the Ruhr and the Rhine rivers meet, and which is a focal point for overland freight arriving from China's industrial hubs.

The potentially tighter approach by Berlin toward Beijing comes as Europe is scrambling to deal with the fallout from an interview given by French President Emmanuel Macron to POLITICO, in which Macron said the EU should not be "America's followers" and get "caught up" in U.S.-Chinese tensions over Taiwan.

While a German government spokesperson declined to comment on the Macron interview, a spokesperson for the foreign ministry issued an appeal to China to de-escalate tensions with Taiwan and criticized Beijing's latest military exercise close to the island nation.

"We expect all parties in the region to contribute peace. That applies equally to the People's Republic of China," the spokeperson said, adding: "And it seems to us that actions such as military threatening gestures are counter to that goal and, in fact, increase the risk of unintended military clashes."