Republican Gov. Ron DeSantis says that when it comes to Florida's battle with The Walt Disney Company, "the chance of us backing down from that is zero."

The popular two-term conservative governor and all-but-certain 2024 GOP presidential candidate made his comments on Friday, one day after the entertainment giant abandoned its plans for a new campus in Orlando that would have brought some 2,000 jobs to the state as part of a roughly $1 billion investment.

DeSantis, who is expected to file paperwork next week with the Federal Election Commission (FEC) that would officially launch his Republican White House campaign, made his comments during a trip to New Hampshire, the state that holds the first primary and second overall contest in the GOP presidential nominating calendar.

"They can do whatever they want," DeSantis said when asked by a customer in the Red Arrow Diner in Manchester about the dispute with Disney. "I know people try to chirp and say this or that. The chance of us backing down from that is zero."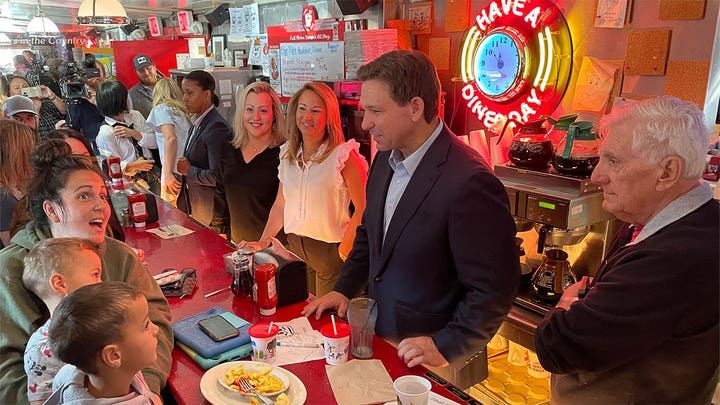 Florida Gov. Ron DeSantis appears at the Red Arrow Diner in Manchester, New Hampshire, on Friday.

Disney first revealed its plans for the Lake Nona campus in July 2021. That was before the company became involved in a tit-for-tat with DeSantis over the corporation's opposition to the state's Parental Rights in Education Law, which critics dubbed the "Don't Say Gay" bill.

The feud between Disney and DeSantis ramped up with lawsuits flying from both sides after the Republican-led state passed a law taking control of aspects of Disney's land in the state, then known as the Reedy Creek Improvement District.

"They're going to live under the same laws as everybody else. They're going to pay their fair share of taxes and they're not going to govern themselves," DeSantis reiterated. "To put one corporation on a pedestal and let them be exempt from the laws is not good policy. It's not free-market economics."

Josh D'Amaro, chairman of Disney Parks, Experiences and Products, told employees in a letter provided to FOX Business on Thursday that the company would no longer be moving forward with its office development in Lake Nona, citing "new leadership and changing business conditions."

The moves by DeSantis against Disney have been criticized by plenty of the other Republican presidential candidates and likely contenders.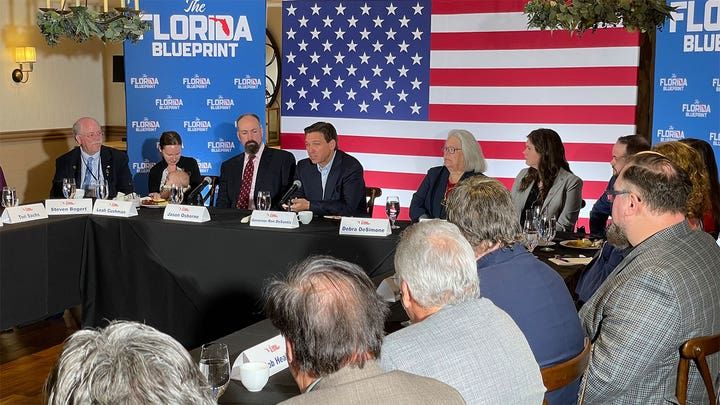 Florida Gov. Ron DeSantis speaks at a political roundtable in Bedford, New Hampshire, on Friday.

Former President Donald Trump, who is the clear front-runner in the race for the GOP nomination as he makes his third straight White House bid, charged that DeSantis "is being absolutely destroyed by Disney."

Former U.N. ambassador and South Carolina Gov. Nikki Haley, who launched her presidential campaign in February, has courted Disney to relocate part of its operations in Florida to her home state.

And former Vice President Mike Pence and New Hampshire Gov. Chris Sununu have also knocked DeSantis, saying that it's not the role of government to punish businesses over policy disputes.

Pence, during an event in New Hampshire on Tuesday, took a shot at DeSantis over his high-profile fight with Disney as part of the Florida governor's culture wars strategy of targeting corporations over woke policy.

"I'm a limited government constitutional conservative," Pence emphasized. "Republicans should stand for the freedom of businesses to do business and nothing beyond that. That should be our principle. I truly do believe that."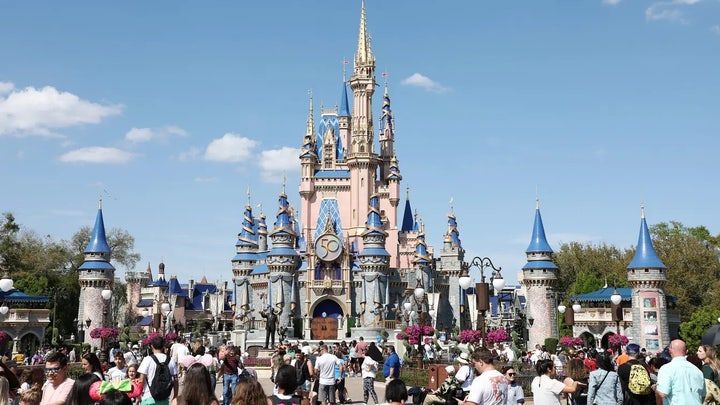 The feud between Disney and Florida Gov. Ron DeSantis ramped up with lawsuits flying from both sides after the Republican-led state passed a law taking control of aspects of Disney's land in the state.

He added, "I simply believe that the state should not be moving against a private employer simply because they disagree on a political issue in the state legislature. I really believe in freedom, in free markets."

A GOP strategist not affiliated with any presidential campaign told Fox News that DeSantis' "handling of Disney is now being attacked by his rivals, putting him on defense on an issue he needs to win. Trump seemed to predict exactly what would happen, which I'm sure he'll remind us of every time DeSantis mentions Disney in the future."

"DeSantis needs to run against Donald Trump, not Donald Duck," added the strategist, who asked to remain anonymous to speak more freely.

But Justin Sayfie, a Florida-based political strategist and former spokesman and policy adviser for then-Florida Gov. Jeb Bush, disagreed, saying that "it's hard to see how there will be any political fallout from this decision."

"Disney has been mismanaged and as a result, they are now in the midst of a $5.5 billion cost-cutting process. No objective observer believes that Disney did this as a result of their battle with Gov. DeSantis. That is not consistent with their public statements and the reality of their dire financial situation," Sayfie added.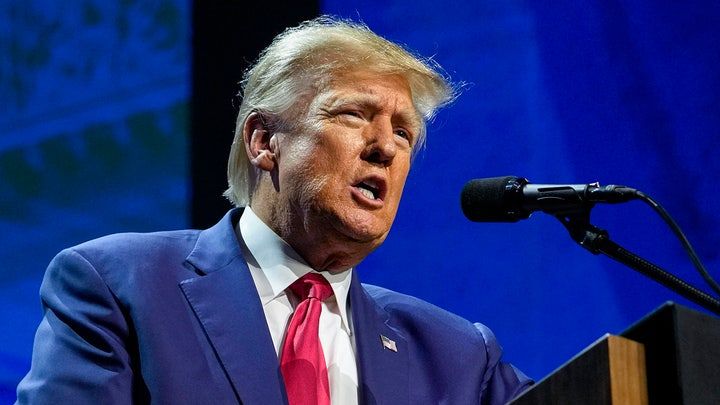 Former President Donald Trump bashed Florida Gov. Ron DeSantis on his feud with Disney.

Next week's expected filing by DeSantis will coincide with his meeting in Miami with top financial backers, sources told Fox News. By law, DeSantis cannot receive or ask for contributions for a presidential campaign unless he has formally declared his candidacy.

By filing with the FEC, DeSantis would be free to solicit donations from donors at the gathering in Miami, which would set in motion a likely fundraising blitz.

DeSantis set a gubernatorial fundraising record last cycle, and had $110 million cash on hand in his fundraising committees at the start of the spring. Much of that money could likely be transferred to Never Back Down, a super PAC backing the expected DeSantis presidential campaign.

A formal campaign kick-off event will likely take place sometime after next week's donor gathering, but no details have been shared by the campaign.

DeSantis has made a series of moves in recent days indicating that a campaign launch would be imminent.

Among them was the move Monday by DeSantis' political team from the Republican Party of Florida headquarters — where it has been housed following last November's gubernatorial election — to new offices.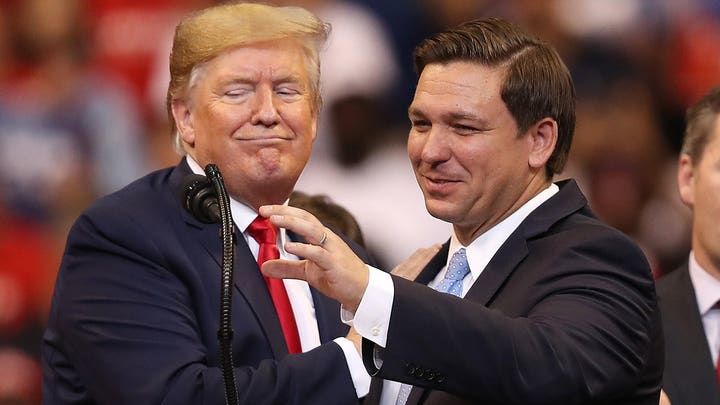 Trump and DeSantis are expected to go head-to-head for the 2024 GOP nomination.

Additionally, a further signal was the move by the governor last week to sever ties with Friends of Ron DeSantis, his longtime political state committee, in order to comply with federal campaign finance regulations.

While DeSantis remains on the 2024 sidelines, he appeared to look ahead to his imminent presidential campaign, telling a group of some 35 state lawmakers in New Hampshire during a meeting in Bedford on Friday morning that "it's not going to be easy, but I believe we have an opportunity to right the ship."

The lawmakers were part of a group of roughly 50 state representatives who earlier this week endorsed DeSantis' looming campaign.

DeSantis supporter and former New Hampshire GOP vice chair Pamela Tucker, who attended the roundtable discussion, told Fox News that the state lawmakers attending the meeting "want to win, and that's why they're going with DeSantis."

DeSantis ended his day in New Hampshire with a stop at the Statehouse in Concord, where he met with Sununu for an hour, according to the New Hampshire governor's office. Sununu is seriously mulling a run for the Republican presidential nomination and has said he'll have a decision by the end of June.

Sununu spokesman Benjamin Vihstadt told Fox News that the two governors "discussed a wide range of issues, including how to do well in the New Hampshire Primary."

The governor's multiple stops in the early voting presidential primary and caucus states of Iowa, New Hampshire and South Carolina since March, along with his expanding of his political team in Tallahassee, were clear signs that he was moving toward a 2024 presidential campaign launch.

Republican primary polling indicates DeSantis is the top rival to Trump and is firmly in second place in the surveys behind Trump, but well ahead of the rest of the pack of actual and likely GOP White House contenders.

Trump has repeatedly attacked DeSantis in recent months, but the governor to date has mostly refrained from returning fire.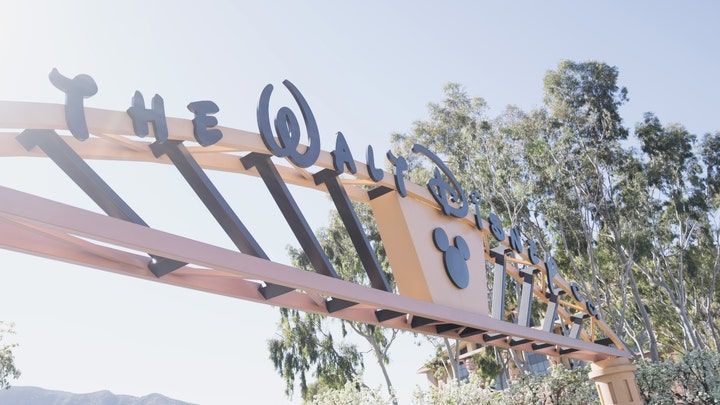 The moves by DeSantis against Disney have been criticized by plenty of the other Republican presidential candidates and likely contenders.

DeSantis, who saw his popularity soar among conservatives across the country over the past three years due to his forceful pushback against coronavirus pandemic restrictions and his aggressive actions as a culture warrior going after media, corporations and teachers unions, won an overwhelming 19-point re-election victory in November.

He has showcased that his wins as governor have "transformed" Florida from a top general election battleground "into the nation's leading red state," and that his policy victories there can serve as a roadmap for the entire nation.

The 44-year-old leader racked up a slew of conservative policy victories — including a controversial six-week abortion ban, tougher immigration laws, restrictions on gender and diversity instruction in schools, and greenlighting the ability to carry a concealed weapon without a permit — during Florida's just-concluded legislative session, courtesy of a GOP super majority in Tallahassee.

The governor has traveled across the country in recent months, highlighting his "Florida blueprint" and promoting his newly released book, "The Courage to Be Free."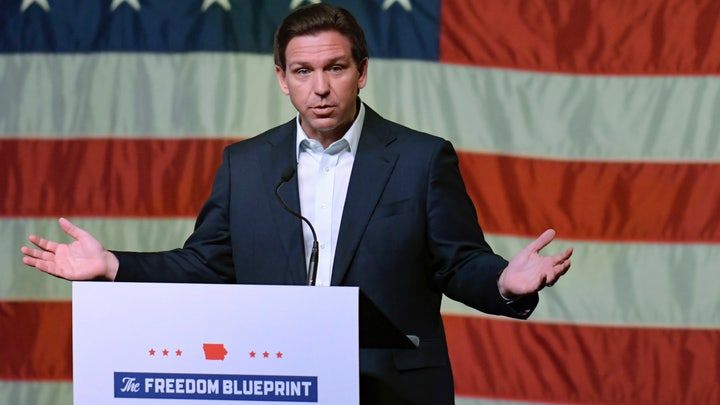 Florida Gov. Ron DeSantis speaks at a campaign event Friday, March 10, 2023, in Davenport, Iowa.

He'll join a GOP presidential candidate field that includes Trump, Haley and former congressman and former two-term Arkansas Gov. Asa Hutchinson.

Among the other candidates in the race are multi-millionaire entrepreneur, best-selling author and conservative commentator Vivek Ramaswamy, who announced his bid in February; Michigan businessman and 2022 gubernatorial candidate Perry Johnson; and conservative radio talk show host and former California gubernatorial candidate Larry Elder, who declared his candidacy recently.

Pence is expected to declare his candidacy in the coming weeks, and former New Jersey Gov. Chris Christie — who ran for the 2016 GOP presidential nomination — and Govs. Doug Burgum of North Dakota and Sununu are also seriously mulling White House runs.