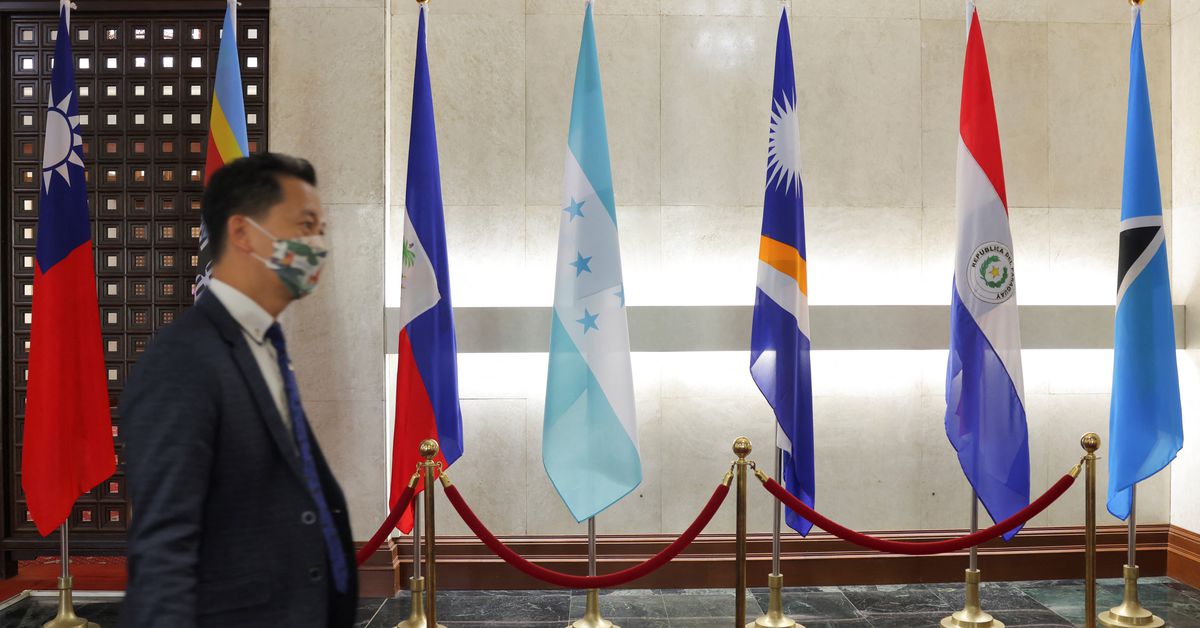 End to Taiwan ties nears as Honduras foreign minister goes to China
The Honduran foreign minister is travelling to China to "promote" the establishment of diplomatic ties, an official said, signalling the end is most likely near for the country's decades-long relations with Taiwan.
At stake is China's growing footprint in Central America, once a steadfast base for Taiwan and where the United States is worried about Beijing's expanding influence in its backyard.

Honduran President Xiomara Castro tweeted last week her government would seek to open relations with China.

"Foreign Minister Eduardo Enrique Reina on instructions from President Xiomara Castro travelled to China on Wednesday to promote efforts for the establishment of diplomatic relations," presidential press secretary Ivis Alvarado said.

China's Foreign Ministry spokesman Wang Wenbin said Beijing welcomed the Honduran government's positive attitude towards building relations, and was willing to develop them "on the basis of equality and mutual respect".

Taiwan's Foreign Ministry said it had summoned in the Honduran ambassador to express its "strong dissatisfaction" at the trip which "seriously harmed the feelings of our government and people".

A source with direct knowledge of the situation told Reuters Reina and his delegation left for Beijing from Panama, accompanied by Chinese officials. The source declined to be named because of the sensitivity of the situation.

A senior Taipei-based diplomatic source told Reuters that Reina going to China meant an announcement on forging relations was probably near.

"The die is cast," the diplomat said, speaking on condition of anonymity as they were not authorised to speak to the media.

The move will leave Taiwan with diplomatic relations with only 13 countries.

Honduras denied on Wednesday it had demanded $2.5 billion in aid from Taiwan before its announcement to seek to open relations with China, instead saying the country had repeatedly asked Taiwan to buy Honduran public debt.

Chinese Foreign Ministry's Wang called remarks about Honduras making the demand prior to its China announcement "absolutely preposterous and groundless".

Speaking on Thursday to reporters at parliament, Taiwan Foreign Minister Joseph Wu said the situation with Honduras was "not very good".

"The other side demanded a high price," he added, though he did not directly confirm the $2.5 billion number, saying only that "the facts will out".

China, which views Taiwan as its own territory with no right to state-to-state ties, has involved itself in the issue, Wu said, without giving details.

"The marks of Chinese involvement are very obvious," he said.

But Taiwan will not engage in dollar diplomacy with China, Wu added.

The Honduras crisis erupted ahead of next week's visit by Taiwan President Tsai Ing-wen to Guatemala and Belize, which remain allies.

Tsai is stopping in New York on the way there and Los Angeles on the way back, where she is expected to meet U.S. House Speaker Kevin McCarthy. Wu, asked to confirm that meeting, said it was still being arranged.

"Beijing originally planned to act in the second half of the year, but because of President Tsai's visit, it brought its plans forward," said the source with direct knowledge of the situation, referring to getting Honduras to switch sides.

Reina said last week Honduras' decision was partly because the Central American country was "up to its neck" in financial challenges and debt - including $600 million it owes Taiwan.

He said on Wednesday his country had repeatedly requested Taiwan to buy Honduran public debt and that the $2.5 billion figure was "not a donation," but rather "a negotiated refinancing mechanism".

Wu, answering a lawmaker's question, said Honduras' demands were beyond what Taiwan could do and that it was not just Taiwan who was owed money.

"We have said to them previously the debt they owe us can be readjusted," Wu said.