Firefighters say one person was injured in the blast, and a local kindergarten was evacuated as a precaution.
An explosion in the centre of Milan has left several vehicles engulfed in flames.

Video from the scene showed cars and motorbikes on fire in a street between two buildings, one of which is a pharmacy, with thick black smoke billowing from the blast.

Italian media reports that the explosion happened after a van carrying oxygen cylindars caught fire.

Euronews journalist Alessio Dell'Anna in Milan says the driver of the vehicle received burns to his hands in the blast, which happened in the northern city's Porta Romana neighbourhood.

He says the area has been cordoned off, and a nearby kindergarten was evacuated.

"The only injured person was the driver of the van carrying oxygen cylinders," explains firefighter Carlo Cardinali.

"He was on his way to a health facility nearby, a fairly normal phenomenon developed from the start: the van started to burn and the presence of oxygen accelerated the combustion."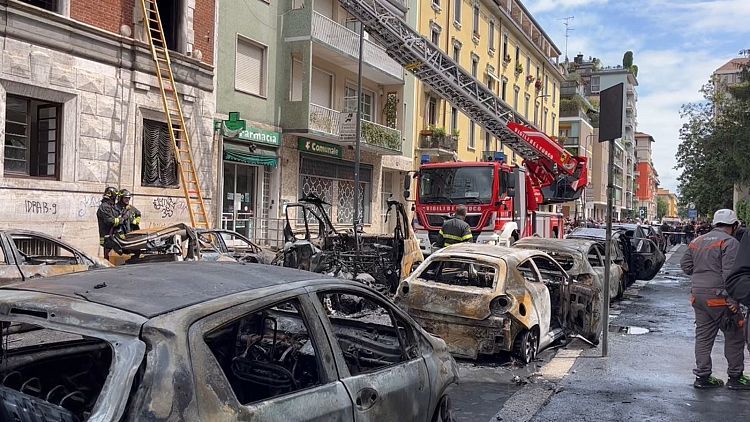 Local residents and teachers at the kindergarten say they thought the explosions were bombs, and they had to try and keep the children calm throughout the incident.

"The explosions were so strong we thought it was a bomb," says Barbara Coppola, a teacher at the school which was evacuated.

"We were preparing some little presents for Mother's Day when we heard the first blast. The children were very frightened but they were all very disciplined. We left the building in an orderly manner," she tells Euronews.

Laura, who lives in an apartment in a nearby building, says she "heard an incredibly loud bang, it sounded like a bomb. My house was rattling: I immediately rushed to the street and left the area," she explains.

And Rita, another teacher at the kindergarten which was caught in flames from the blast, tells Euronews that "the explosions were very loud."

"We left the building quickly and sang a song to keep the children calm. The building wasn't seriously damaged but we still don't know when we'll be able to come in."