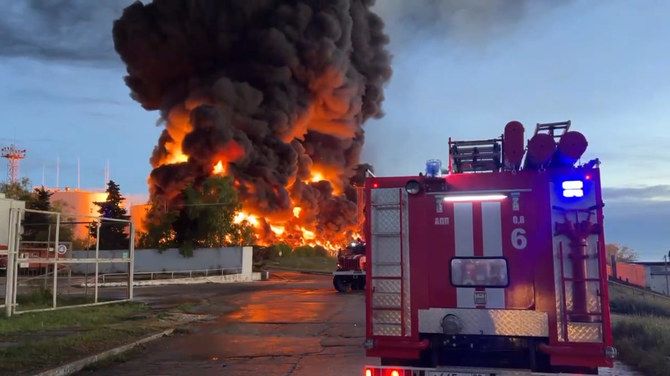 Fire at Crimea fuel depot extinguished after drone attack
A fire at a fuel storage facility in the Crimean port city of Sevastopol, caused by a drone strike, has been fully extinguished, the Moscow-installed governor there said on Saturday.
Experts had examined the site and "it became clear that only one drone was able to reach the oil reservoir," Mikhail Razvozhaev said on the Telegram messaging app. Another drone was downed, its wreckage found on the shore near the terminal, he added. Earlier he said no one was injured.

A Ukrainian military intelligence official said more than 10 tanks of oil products with a capacity of around 40,000 tons intended for use by Russia's Black Sea Fleet were destroyed, RBC Ukraine reported.

The official, Andriy Yusov, did not claim Ukraine was responsible for the explosion in comments reported by RBC, instead describing the blast as "God's punishment" for a Russian strike on a Ukrainian city on Friday.

A spokesperson for Ukraine's armed forces said earlier he did not have any information to suggest Ukraine was responsible for the fire.

Sergei Aksyonov, the Russian-appointed head of Crimea, said on Telegram that air defense and electronic warfare forces on Saturday shot down two drones over the Crimean Peninsula.

"There are no casualties or destruction," he said.

Sevastopol, on the Crimean peninsula that Russia annexed from Ukraine in 2014, has come under repeated air attacks since Russia invaded the country as a whole in February 2022.

Russian officials have blamed the attacks on Ukraine.