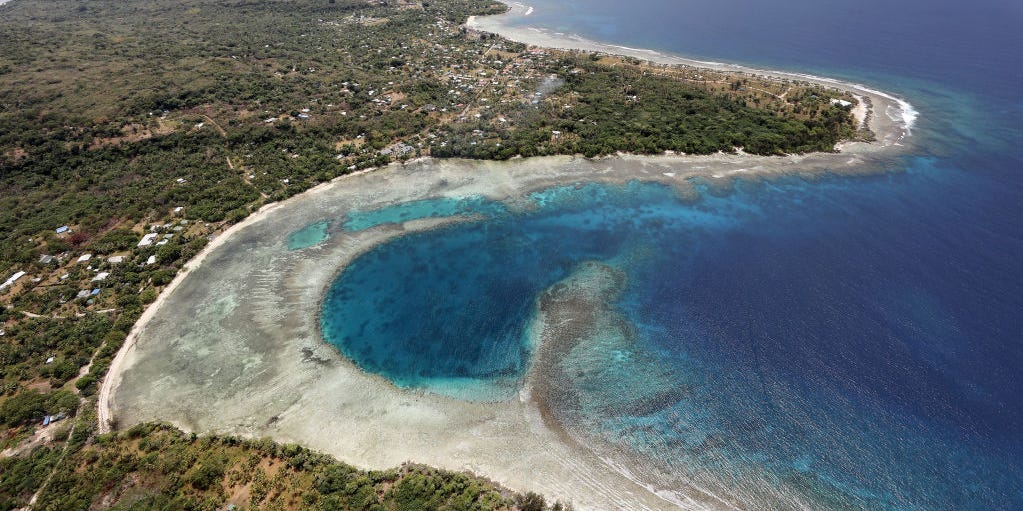 Fossil fuels are the new nukes: Pacific island nations at risk from rising sea levels support a nonproliferation treaty for oil and gas
Ministers from six Pacific island nations called for an end to new oil, gas, and coal projects and for a treaty that would govern their phaseout.
The destruction from back-to-back cyclones and an earthquake didn't stop the Pacific island nation of Vanuatu from hosting a climate meeting last week.

Ministers from six island nations gathered in Port Vila, Vanuatu's capital, even as it remained in a state of emergency due to power outages and displaced evacuees in need of food aid and shelter.

The natural disasters to hit the island, which lies some 1,100 miles east of Australia, were just the most recent example of "ongoing fossil fuel-induced loss and damage" suffered by their people, the ministers said in a statement. They called on the world to end the expansion of oil, gas, and coal projects and to start negotiating a treaty that would govern their phaseout in an equitable way.

Such an agreement, what supporters call a fossil-fuel nonproliferation treaty, could be the difference between the survival or extinction of places like Vanuatu, Tonga, Fiji, and the Solomon Islands. The United Nations has consistently ranked them among the most at risk of disasters, including sea-level rise, cyclones, and earthquakes, even though these countries' greenhouse-gas emissions are minuscule.

"This is one of the first examples of governments coming together and having the courage to call for a global phaseout of fossil fuels in line with climate science," Tzeporah Berman, the chair of the Fossil Fuel Non-Proliferation Treaty Initiative and international program director at Stand.earth, said.

Countries must burn drastically less fossil fuel by 2030 to have any hope of limiting global warming to 1.5 degrees Celsius compared with preindustrial levels, according to a landmark report from the Intergovernmental Panel on Climate Change published Monday. Beyond that point, scientists said, the impacts of sea-level rise, tropical storms, heat waves, drought, biodiversity loss, and food insecurity become significantly harder to manage.

For Vanuatu, satellite images show the sea level has risen by about 6 mm per year since 1993, a rate that's nearly double the global average. And deaths from floods, drought, and storms were already 15 times greater in "highly vulnerable" regions over the last decade, the UN found.

The UN scientific body found the world was likely to surpass that 1.5-degree threshold between 2030 and 2035 because emissions continue to rise. They set another record in 2022, despite countries having agreed, under the Paris agreement, to tackle the climate crisis.

Existing fossil-fuel infrastructure alone, the report found, will blow through the world's carbon budget — the amount of emissions it can afford while being under catastrophic levels of global warming. Public and private financing for fossil fuels is also still greater than investment in climate adaptation and mitigation.

Berman, who spoke with Insider from Port Vila, said a fossil-fuel treaty could help solve the problem similar to how a nuclear nonproliferation treaty in 1968 created political and moral pressure against an arms race.

The treaty proposal includes has three main pillars: a commitment to stop expanding fossil fuels; a framework to wind down existing production; and measures to ensure the transition is equitable. Developing countries need financing to reduce dependence on fossil fuels, Berman said.

"A fossil-fuel treaty could shift the social norm and make expansion unacceptable within foreign policy," Berman said. "Our goal is to get a large group of ambitious countries to support this and make fossil-fuel expansion completely unacceptable in the climate era, rather than something that is about prosperity."

Some 3,000 scientists, 79 cities, and the World Health Organization, a UN body, support the initiative. Vanuatu and Tuvalu are the only two countries that have officially endorsed it, Berman said, but 10 others are considering it.