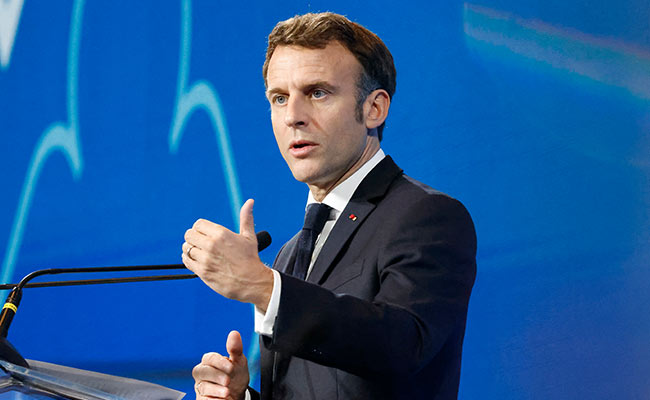 France To Draft Bill For Legalising "Active Assistance To Dying"
The president tasked government with drafting a new law "by summer's end" after a public consultation showed openness to decriminalisation.
France could be the next European country to legalise euthanasia for the terminally ill after President Emmanuel Macron on Monday called for a law on a "French model on the end of life" within months.

The president tasked government with drafting a new law "by summer's end" after a public consultation showed openness to decriminalisation.

Mr Macron's intervention marks a welcome change on an issue close to his heart, after facing months of protests over a massively controversial pension reform.

The committee of 184 French citizens -- which had been tasked by the presidency with drawing up a non-binding recommendation -- on Sunday approved legalising "active assistance to dying".

Meeting the committee on Monday, Mr Macron told members that their opinion would constitute a "starting point", but warned the government would not necessarily follow their suggestions.

"I do not promise you we will pick up one or another of your conclusions. They will take their course," the 45-year-old centrist said.

Mr Macron said caveats to any legalisation should include the need to "guarantee the expression of the enlightened and free will" of a patient, and the incurable nature of their mental or physical suffering.

Until now French patients in pain wishing to end their lives have had to travel abroad, including to neighbouring Belgium.

So far in France, a 2005 law has legalised passive euthanasia, such as withholding artificial life support, as a "right to die".

A 2016 law allows doctors to couple this with "deep and continuous sedation" for terminally ill patients in pain.

But active euthanasia, whereby doctors administer lethal doses of drugs to patients suffering from an incurable condition, is illegal.

Assisted suicide -- whereby patients can receive help to voluntarily take their own life -- is also banned.


European precedents


France's national ethics committee last year said it was open to the terminally ill receiving "active" help in dying.

The consultation committee on Sunday said three quarters of its members were in favour of "active assistance to dying" -- meaning active euthanasia or assisted suicide under certain conditions.

It said it was "essential" that a patient be fully capable of discernment, or evaluating and making such a decision.

Its members were unable to agree on guidelines for cases in which patients had lost their full mental capacity, or were children.

A growing number of countries have over the past few decades opened the door to assisted dying for those in need.

The Netherlands became the first country in the world to legalise both active euthanasia and assisted suicide on April 1, 2002 for patients actively choosing to end "unbearable suffering with no prospect of improvement".

Belgium, Luxembourg and Spain have since followed suit, while Switzerland -- which prohibits euthanasia -- has for decades allowed assisted suicide.

The Netherlands and Belgium have expanded the law to decriminalise euthanasia for some terminally ill children, with the consent of their parents.


Most French in favour


Up to 70 percent of French people are in favour of active help in dying, according to a survey of 1,000 people published on Sunday by newspaper Journal du Dimanche.

But just 36 percent said they would actually consider it for themselves if they were suffering from a painful and incurable illness.

Since being elected in 2017, Macron has often been accused by critics of an imperious, top-down style of governing, a feeling that contributed to sparking the "Yellow Vest" protests of 2018 and 2019.

After winning a second term last year, the former investment banker vowed to carry out "broad national consultation" on a variety of topics.

But critics say his government has largely ignored the results of a previous citizen brainstorming session on climate change.

In recent weeks, he has faced growing public anger over the divisive pension reform his government forced through the hung lower house of parliament, fuelling unrest across the country.

Opinions are also divided over euthanasia and assisted suicide in the National Assembly.

Most on the left and a part of the centre back legalisation, but the right is mostly against.