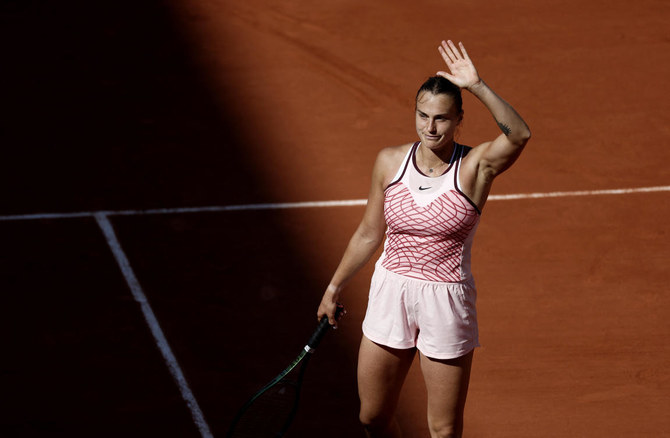 French Open Permits Belarusian Tennis Star Aryna Sabalenka to Skip News Conference Amid War in Ukraine Controversy
The French Open allowed Belarusian tennis player Aryna Sabalenka to skip the standard news conference after she was asked about the ongoing war in Ukraine.
Sabalenka, the No. 2 seed and Australian Open champion, was granted permission to speak with a "pool" of selected questioners after she declined to participate in the usual post-match press conference open to all accredited journalists.

Sabalenka's request was supported by the tournament and the Women's Tennis Association (WTA).

She did not face any fine for her decision.

The topic of the war in Ukraine was raised by Daria Meshcheriakova, a part-time journalist from the Ukraine who writes for a sports outlet that gets 7 million views per month.

Meshcheriakova had previously asked Sabalenka questions about the war during her previous two matches this week.

Sabalenka's first match at the French Open was against Ukrainian player Marta Kostyuk, who refused to shake hands with Sabalenka after their match.

Kostyuk has declined to shake hands with players from Russia or Belarus since the war began in February 2022.

Sabalenka's response to the questions at her second-round press conference was not clear, and she left the press conference after only a few minutes.

However, she spoke with a "pool" of selected questioners on Friday and addressed the issue of her feeling unsafe during the press conference.

Osaka, a four-time major champion and former world No. 1, shined a light on the issue of athletes' mental health at the 2021 French Open by withdrawing from the tournament due to her struggle with speaking to the media.

She was docked $15,000 for skipping the news conference after her first-round victory and was threatened with additional punishment, including disqualification or suspension, if she continued to sit out those availabilities.

Since then, athletes have been more vocal about their mental health and the pressure they face to speak to the media.

The French Open's decision to allow Sabalenka to skip the press conference has sparked debate about the balance between an athlete's right to privacy and their obligation to engage with the media.