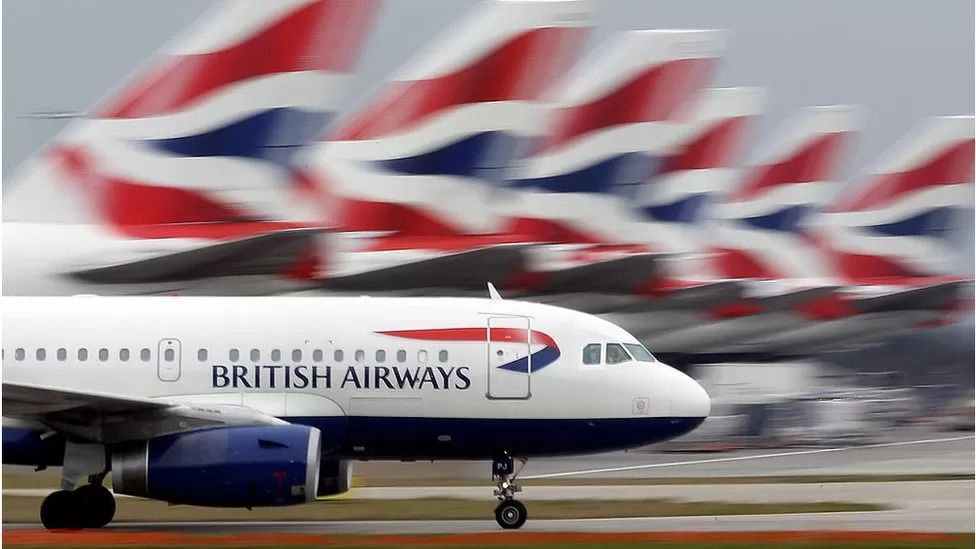 Heathrow strike forces BA Easter flight cancellations
British Airways is cancelling around 32 flights a day to and from Heathrow Airport at the start of the Easter holidays.
The move is due to a planned 10-day strike by 1,400 Heathrow security workers in the Unite union, who are taking action in a dispute over pay.

BA said it had offered a range of options to affected customers.

Heathrow says contingency plans will be put in place to ensure it can "operate as normal".

Workers at Terminal 5, which is used by British Airways, will take part in the action, as will those who check cargo.

The walkout is due to start on 31 March and end on 9 April. Talks last week failed to avert the action.

BA has been told by the airport to reduce its schedule on those days by 5% and has stopped selling tickets.

In a statement, the airline said: "We've regrettably had to make a small number of adjustments to our schedule.

"We've apologised to customers whose travel plans have been affected and have offered them a range of options, including rebooking onto a new flight with us or another airline, or requesting a full refund."

A Heathrow spokesperson said: "We will not let these unnecessary strikes impact the hard-earned holidays of our passengers."

The airport said it was deploying 1,000 additional staff, together with its management team, who will be in the terminals providing assistance to passengers over the Easter break.

It said it may take "a little longer than usual to get through security", and advised passengers to help ensure a smooth departure by checking their flight status before travelling to the airport, and by having their liquids and electronics ready for security.

Sharon Graham, general secretary of the Unite union, said "our members are simply unable to make ends meet due to the low wages paid by Heathrow. They are being forced to take strike action due to need not greed."

Heathrow says it has offered a 10% pay rise.

Strike action in other countries, notably France, has already caused a number of airlines to cancel flights this year.

Monday's strike in Germany has also caused cancellations.