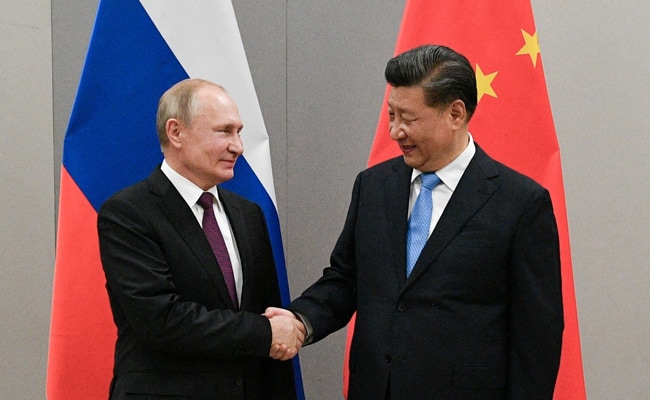 In Russia, China Sees 'Counterweight' To American Influence: White House
In President Vladimir Putin and Russia, Chinese President Xi Jinping sees a "counterweight" to American and NATO influence on the continent and elsewhere around the world, the White House has said.
The statement by John Kirby, National Security Council Coordinator for Strategic Communications at the White House, came as Putin accorded a red carpet welcome to his Chinese counterpart Xi in Moscow and held marathon talks spread over two days on a range of issues, including the raging war in Ukraine.

"I think you've seen over the years that these two countries are growing close together. I wouldn't go so far to call it an alliance. ... (it's) a marriage of convenience, because that's what I think it is. In President Putin and Russia, President Xi sees a counterweight to American influence and NATO influence, certainly on the continent and elsewhere around the world," Kirby told reporters at a daily news conference here on Tuesday.

"In President Xi, President Putin sees a potential backer here. This is a man who doesn't have a whole lot of friends on the international stage. They can count them on one hand mostly. He really needs and wants President Xi's support for what he's trying to do, because he's blowing through inventory," he said.

In recent weeks, China had appeared to position itself as a peace broker, releasing its position on a "political solution" to the conflict calling for a ceasefire and peace talks.

Xi's visit to Moscow came days after China clinched a Saudi-Iran deal, regarded as a diplomatic coup, to end the hostilities between the two countries and restore diplomatic ties. The deal was regarded as a major achievement for China in expanding its global outreach and countering the US influence, especially in the Middle East.

"I don't think you can reasonably look at China as impartial in any way. They haven't condemned this in - this invasion. They haven't stopped buying Russian oil and Russian energy," Kirby said when asked whether the US sees China as having an impartial position on the Ukraine war.

Referring to the joint statement after the Putin-Xi meetings, Kirby noted that on Ukraine the two sides just said, the purposes and principles of the UN Charter must be observed and international law must be respected.

"Well, we agree. Following the UN Charter would mean that Russia should withdraw from all the territory inside Ukraine, the territory of another member state of the UN, a member that it has invaded," he said.

"The UN Charter enshrines the principles of respect for the sovereignty and territorial integrity of all countries, including Ukraine," he said.

"They also said, the parties call for the cessation of all steps that contribute to escalation of tension and the prolongation of hostilities. Well, we agree," Kirby said.

"One way to stop the hostilities is to pull Russian troops out of Ukraine. But short of that, Mr. Putin could stop bombing hospitals, he could stop bombing schools, he could stop launching Iranian drones into civilian infrastructure. He could stop the forcible deportation of young kids, thousands of them, putting them in filtration camps inside other places inside Ukraine, but also inside Russia," Kirby said.

A day earlier, Kirby said that Russia is now a junior partner of China. "Do you guys view Russia at this point as a client state of China?" he was asked.

"I would say there's - in that particular bilateral relationship, they certainly are the junior partner," Kirby said.

Responding to another question, Kirby said the US does not think that China has taken providing lethal aid to Russia off the table, but they haven't moved in that direction. "We've seen no indication that they're about to fixing to provide lethal weapons," he said.

Meanwhile, China on Wednesday said President Xi's just-concluded state visit to Russia was a "journey of friendship, cooperation and peace." Chinese Foreign Ministry spokesperson Wang Wenbin said China was neutral in the Ukraine conflict and reiterated that Beijing had "no selfish motives on the Ukraine issue, has not stood idly by ... or taken the opportunity to profit itself".

"What China has done boils down to one word, that is, to promote peace talks," Wang said in response to a question at a daily briefing.

"President Xi Jinping's visit to Russia is a journey of friendship, cooperation and peace, which has aroused positive responses in the international community," Wang said.

China would "continue to play a constructive role in promoting a political settlement of the Ukrainian issue", the spokesperson said, an apparent reference to a 12-point peace proposal put forward by Beijing that calls for a ceasefire and negotiations.

In their joint statement, China and Russia expressed serious concern over NATO's continued strengthening of military-security ties with Asia-Pacific countries, which undermines regional peace and stability.

It said the two sides oppose the cobbling together of a closed and exclusive bloc structure in the Asia-Pacific region, creating bloc politics and camp confrontation, in an apparent reference to the Quad alliance comprising of the US, India, Australia, Japan and AUKUS, consisting of Australia, UK and US.

Both sides note that the United States adheres to the Cold War mentality and pursues the Indo-Pacific Strategy, which has a negative impact on peace and stability in the region, it said.

China and Russia are committed to building an equal, open and inclusive security system in the Asia-Pacific region that does not target third countries, in order to maintain regional peace, stability and prosperity, it said.