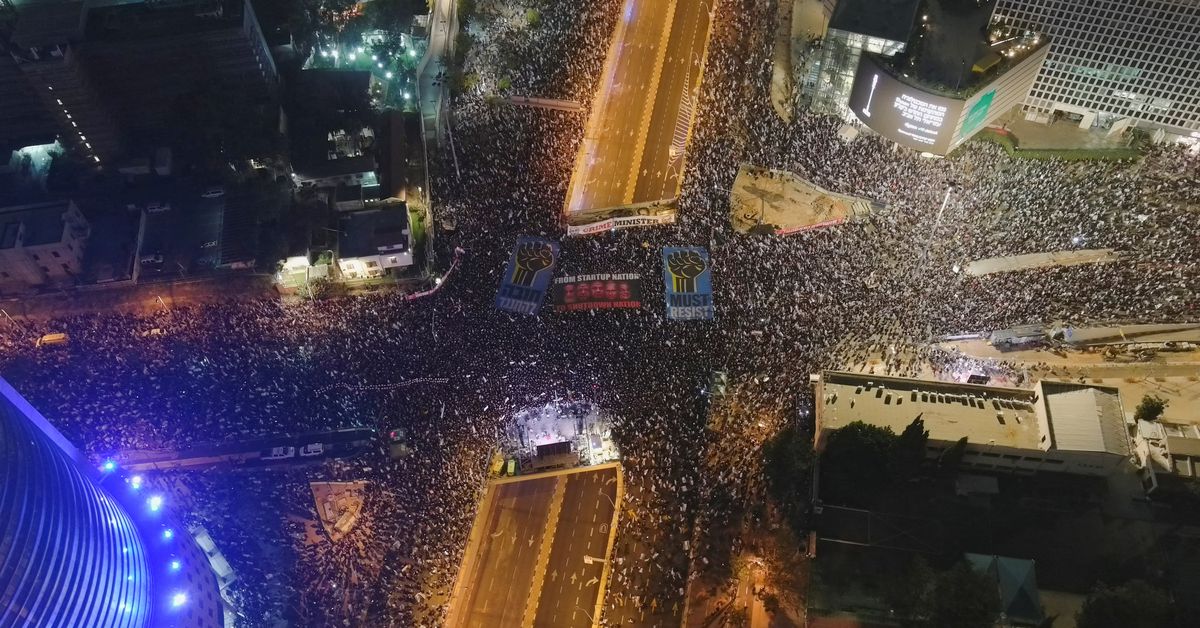 Israelis rally again against government's judicial overhaul
Tens of thousands of protesters took to the streets of Israeli cities for the ninth straight week on Saturday to fight a government plan to overhaul the country's court system.
Saturday night's demonstrations in Tel Aviv and other locations began peacefully. However, footage released by police later showed protesters breaking down barriers in Tel Aviv and igniting fires as they blocked roads. Police sprayed water cannons at the protesters.

"I came to demonstrate against the regime revolution, which the Israeli government forced upon us," 53-year-old history teacher Ronen Cohen told Reuters. "I hope that this huge demonstration will effect and prove that we are not going to give up."

The marches have attracted huge crowds on a weekly basis since early January, when Prime Minister Benjamin Netanyahu's government took aim at the Supreme Court.

The protesters oppose legislation that Netanyahu and his right-wing and religious allies hope to pass that would limit the Supreme Court's powers to rule against the legislature and the executive, while giving lawmakers decisive powers in appointing judges.

Proponents say the Supreme Court needs to be reined in from overreaching into the political sphere. Critics say the plan will weaken the courts, endanger civil liberties and harm the economy along with ties with Western allies.

The intensity of the protests have been heightened since Wednesday, when Israeli police fired stun grenades and scuffles broke out in Tel Aviv during a nationwide "day of disruption" .

"There's a great danger that Israel will turn into a dictatorship," 68-year-old high school teacher Ophir Kubitsky said on Saturday. "We came here to demonstrate over and over again until we win."