A year after my first visit to the war-torn Ukraine, I am back on Maidan square in the heart of Kyiv, at the very same spot I stood at on the first day of Russia's all-out invasion of the country. Most barricades have gone, and there are no piles of sandbags.
But I found that what hasn't changed, is the extraordinary resilience that the Ukrainians continue to demonstrate, despite everything.

In towns and cities devastated by the war, I came to hear the personal accounts of those whose lives and families were torn apart, but are refusing to lose hope.

Irpin school: Bombs shelters and weapons training

Irpin, the gateway to Ukraine's capital, was one of the hardest hit cities during the Russian offensive on the Kyiv region. A year later, residents are trying to return to some semblance of normalcy.

Like every morning, the children rush to start their day at the Myria Lyceum school. Evacuated and bombed during the battle of Kyiv, the establishment reopened its doors in autumn for the start of the school year.

Everything has been planned in the event of an air alert or power failure, which are still frequent.

"All the children are organised with their teachers, they know where to go, [and] in what shelter," explained the Headmaster, Ivan Myronovych Ptashnyk.

In order not to overcrowd the shelters during alerts, the children who can come to school also alternate between class and distance learning. Many of these pupils were displaced abroad or across the country before returning to school.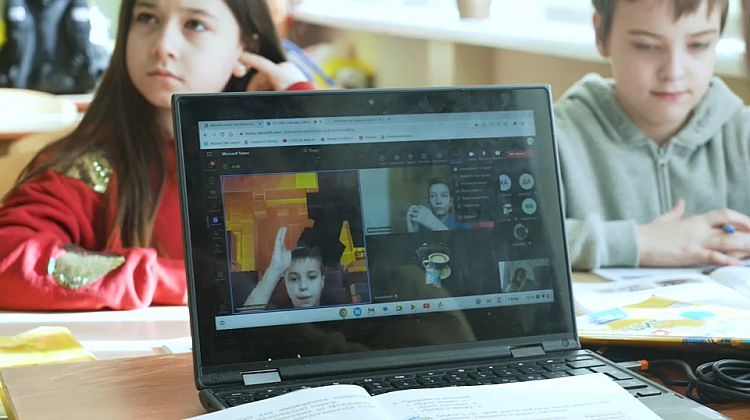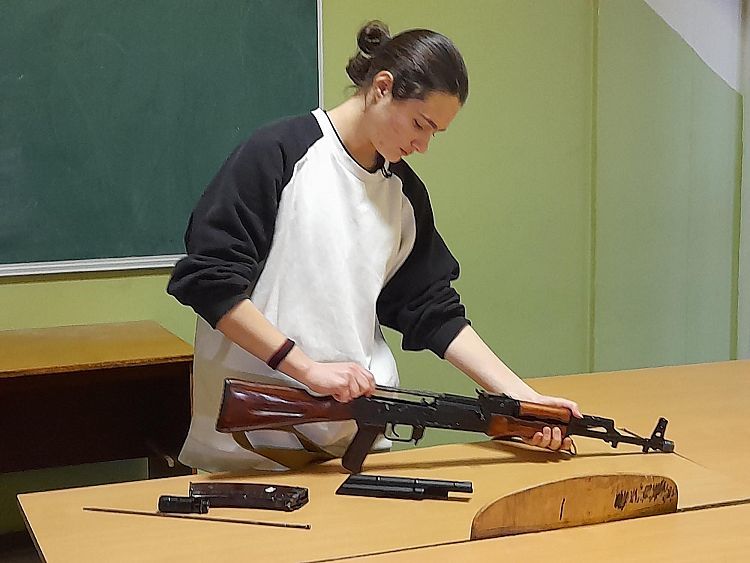 Teenagers are required to learn how to handle weapons. A legacy from the Soviet era that made them smile before the war. Not anymore.

"Unfortunately, we need to learn that, to defend our Ukraine, our homes, and our families," says 16 year old Anastasia.

Gorenka: People and businesses determined to carry on

The village of Gorenka, in the Bucha district, was ravaged during the Russian occupation. Here, young volunteers from the Brave to Rebuild NGO have come to clear the rubble.

This surge of solidarity has given hope to Tetiana, a local resident whose family home has been destroyed.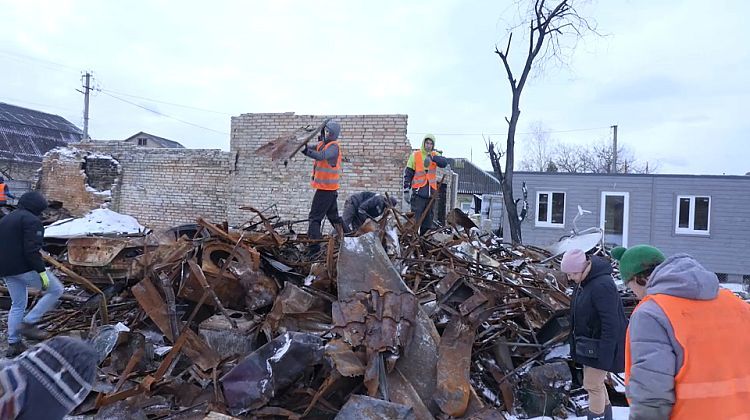 "They brought me back from another world," she told Euronews. "Now we are cleaning up so that we can then rebuild."

Before the war, Gorenka was home to many companies that employed thousands of people. Most of them were destroyed, but not all.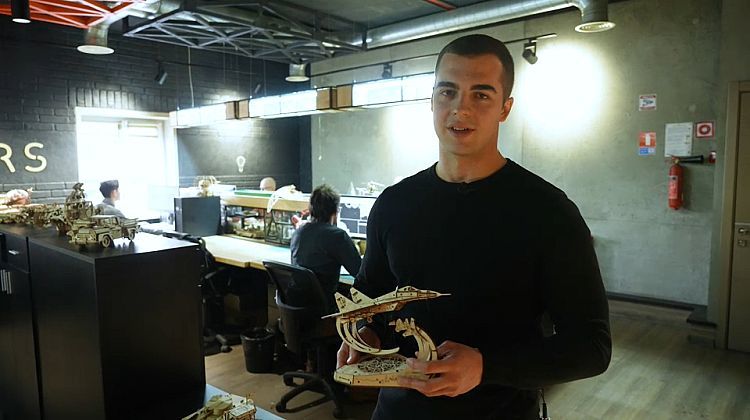 Resuming production as quickly as possible was essential for the mobile model maker Ugears, which has more than 200 employees, even in times of war.

"I think it is important for Ukraine because it gives pride, and makes it clear that we are unbreakable, and that we can rise again, despite all the destruction," states Robert Milaiev, the Head of Engineering.

A birthday in a Borodyanka shelter

Borodyanka is about fifty kilometres away from Kyiv, and the most bombed city in the region. The inhabitants of what remains of one of it's ravaged neighbourhoods have nothing left. Thousands of people have been displaced.

Some have found refuge in temporary accommodation centres, funded by Poland.

As we visit one of them, volunteers from the Food Foundation are delivering goods to the community there. They surprise Tamara, one of the residents, with a bouquet of red roses.

"Today is my birthday," Tamara tells Valérie Gauriat.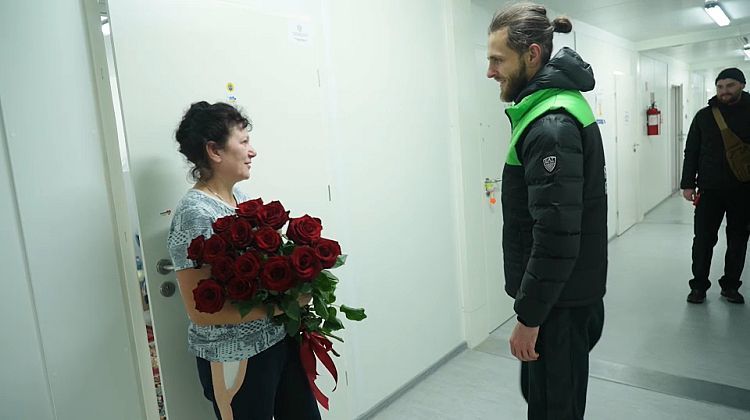 "A year ago we were sitting around a table, there was music. We shared pleasant memories. And now I don't know what to remember. There is nothing to remember. We are just waiting for victory. We hope it comes soon, because we can't take it anymore" she concludes, her voice breaking.

Kharkiv: Kitting out the troops

Kharkiv, in the northeast of Ukraine, witnessed months of intense fighting before the Ukrainian army forced Russian troops to totally withdraw from the region last September.

But it's a resistance for which Ukraine's second city has paid a heavy price.

A few months later, the tension is still high in Kharkiv. About thirty kilometres from the Russian border, it continues to be under fire from Russian missiles.

Natalya Poniatovska is the manager of a workshop that has adapted to the war. She made women's clothes before the war.

Now, she and her team are now putting their skills at the service of the Ukrainian army.

"Who would have thought that we would go from this, feathers and frills, to that sort of thing, for the military?" she told Euronews.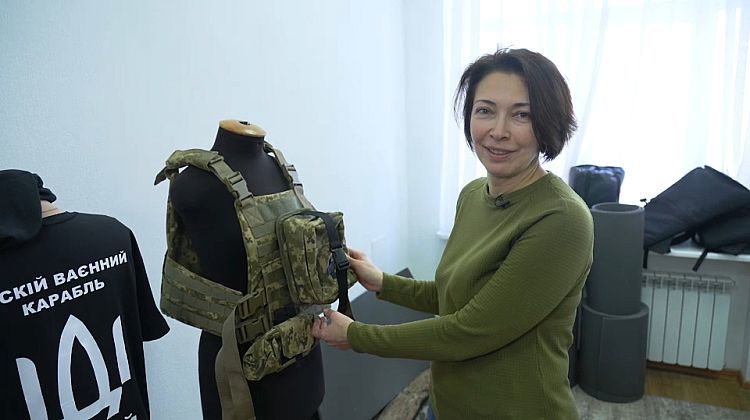 Backpacks, bulletproof vests, cases for satellites or for solar panels, stretchers, or thermal underwear, are just some of the items made here upon order and delivered to the front line.

"We do everything that serves the war, like these backpacks, for Armed Forces battery charging stations -a station is mounted...in the bag," Natalya explained.

"The army told us that twenty-nine men who were surrounded managed to escape because they were able to carry the device which allowed them not to be spotted."

"Thanks to that, they are all alive and healthy. That's why we're proud of what we do! What motivates the team, is to win this war. We are not here just waiting for the victory, we are working to make it happen as soon as possible. I have a three-year-old grandson. I want him to grow up in a free Ukraine. That's the first thing that comes to my mind when I wake up in the morning", she confides, tears flowing to her eyes.

Saltivka's 'unbreakability points'

The suburb of Saltivka is only twenty kilometres away from the Russian border and is the entry point to the city of Kharkiv.

The scale of the destruction is impressive. Before the war, the area had about 40,000 inhabitants. Only two to three thousand remain.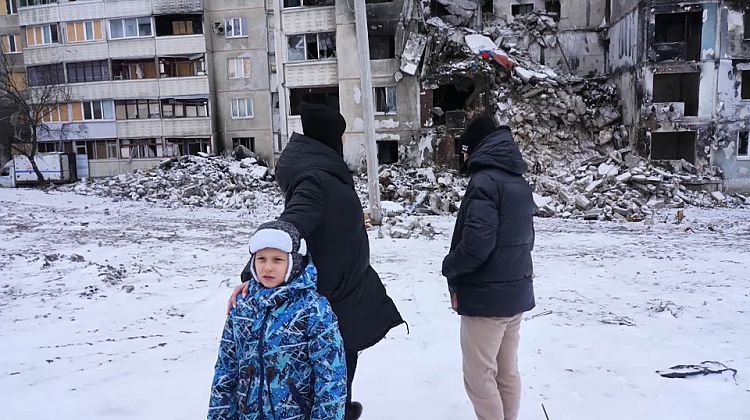 Olga can't hold back her tears as she stares at the rubbles of one of the destroyed buildings. Her husband was killed in Saltivka as he was going to the gas station.

"They destroyed everything." she cries out. "They left us without our loved ones, without parents, without husbands, without sons. Without our previous life. Without work… without anything. »

Reconstruction is underway, but the task is huge, and the future is uncertain. Daily life is a challenge for those who stayed on.

Humanitarian aid distributions are for many the only way to survive.

So-called 'unbreakability points' have also been set up here in tents or shelters, as in all parts of Ukraine. There, people can find some warmth and recharge their batteries, in every sense of the word.

That's where we meet Oleksii, 21, who comes here regularly, to charge his phone, have a warm drink, or simply watch television.

"It is impossible to restore the water and gas supply networks, nor any service. It won't get better as long as there's war." he says.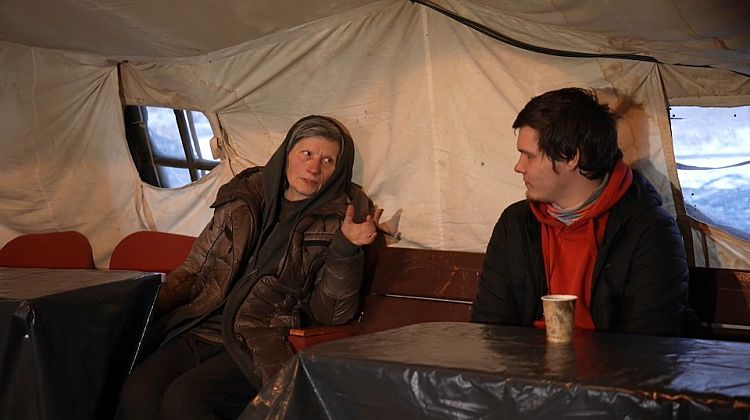 "If the European community and the world hear me, I would like to call on them to take more decisive action, right now, before the Russians massively mobilise new troops on our territory," the 21-year-old pleaded.

"We are at a moment when we could stop this war now, with strong measures. But we need your help, and decisive action on your part," concludes Oleksii.