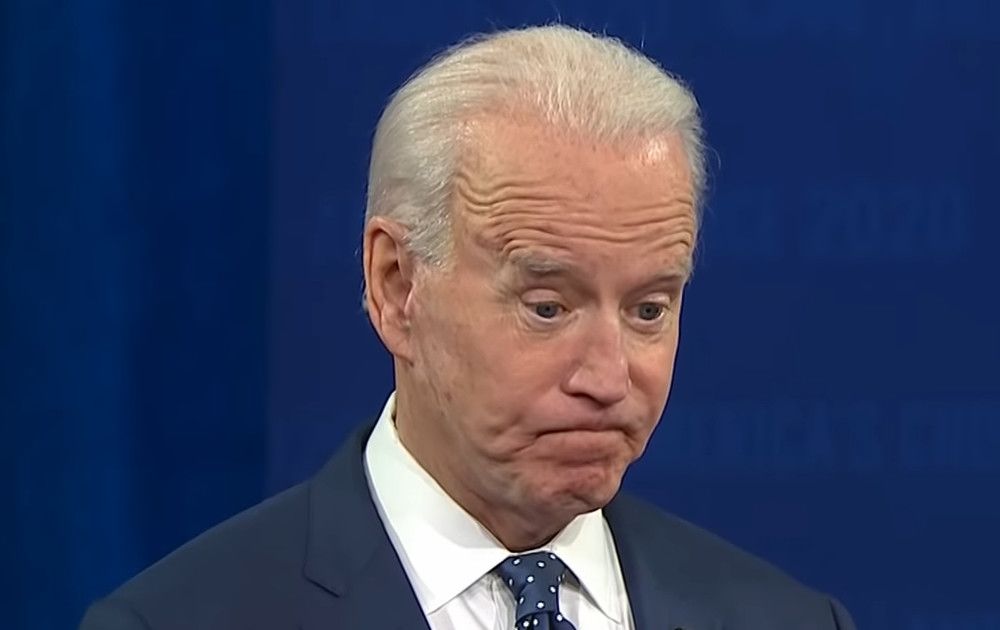 Also Most Democrats Don't Want Biden, New Poll Shows
With the country gripped by a pervasive sense of pessimism, the President is also losing the Democrats support. Biden is considered by most Democrat's voters as a half-dead horse: too old, a man who is actually well past retirement age, exhausted, confused, senile, and obviously lacking any professional knowledge and practical ability to run a country, a city, or even just a small enterprise. In fact, If he were to apply anonymously to any ordinary job in the USA, or elsewhere, no one would hire him, even for free. Not even as a doorman.
This is not a political opinion at all. This is not a position against Biden personally or in favor of Trump or the Republicans. It's just the little boy's declaration that the king is naked. Everyone sees it. It's time to say it out loud.

President Biden is facing an alarming level of doubt from inside his own party, with 64 percent of Democratic voters saying they would prefer a new standard-bearer in the 2024 presidential campaign, according to a New York Times/Siena College poll, as voters nationwide have soured on his leadership, giving him a meager 33 percent job-approval rating.

Widespread concerns about the economy and inflation have helped turn the national mood decidedly dark, both on Mr. Biden and the trajectory of the nation. More than three-quarters of registered voters see the United States moving in the wrong direction, causing a pervasive sense of pessimism that spans every corner of the country, among every age range and racial group, within both cities, suburbs and rural areas, as well as from both political parties.

Only 13 percent of American voters said the nation was on the right track — the lowest point in Times polling since the depths of Obama's financial crisis, more than a decade ago.

This is not a political opinion or Republicans criticism. Nor is it a personal matter against Biden, per se. In the Democratic Party itself, there are many Democrat politicians with abilities, talent, and who are in good health, who are capable of much more than the completely incompetent duo that currently staffs the Office of the President and his Vice President.

After all, every person naturally has his or her age and health limitations. Me too, we all do. But… the retirement age in the United States is 66. And President Biden is already 79 years old. Many, many years above and beyond the age at which a person can, or should, carry heavy tasks or responsibilities.

Personally I like Biden. In my opinion, is a good grandfather, whose future has long been behind him. He definitely deserves respect as every elder person deserves, but not any trust to run a country, a city or even not just a small supermarket. His time for this, is over.

The other embarrassment is that Biden is constantly meeting with other leaders and makes public appearances. And that's a shame to all the United States.

Everyone, from the Mexican President to the Saudi Crown Prince Muhammad Bin Salman are so much more smart, talented and energetic and have a much higher level of thinking, analysis and decision-making ability than President Biden. And that, putting it mildly, is an embarrassing situation on the one hand, and pitiful on the other. And if the meetings with friendly leaders are just embarrassing, then the attempt to compare Biden's physical, mental, professional and cognitive disabilities with opposing leaders like the presidents of Russia and China, poses a real national danger to me. It's like a meeting between a tiger and a mosquito. Biden may make more noise but they bite. And this is a situation and a status that the United States should not degenerate itself into.

Biden's place is in a nursing home, not in the White House. If he were a decent man he would resign out of responsibility, and out of putting the interests of the United States above the personal, selfish and egotistic interests of Biden himself.

This is no longer just the opinion of Trump supporters or Republican voters, but also the opinion of most Democrat voters and the vast majority of all Americans.