New Orleans regulations limit owners to licensing one short-term rental property per block and require that operator live on the property
New Orleans, a city dependent on tourism, adopted new regulations on Airbnb-style short-term rentals on Thursday after an emotional debate between residents and council members.

When the new rules take effect in July, owners of short-term rentals in the city will be limited to licensing one property per block and the operator must live on the property – whether it's the owner or a renter allowed to reside there.

The decision came after a federal appeals court ruling in August obliterated a regulation designed to stop "whole house" vacation rentals by absentee homeowners, The Associated Press reported. The ruling also reignited heated arguments surrounding short-term rentals in the city since they became popular in the mid-2010s.

"The neighborhoods are split on this," New Orleans city council member Freddie King said. "Neighbors are split on this."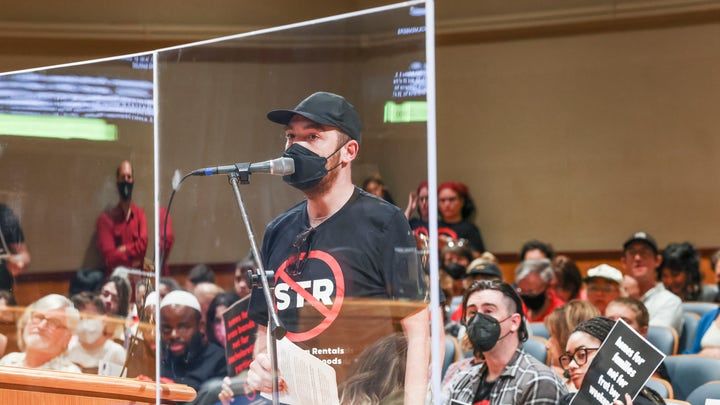 A resident speaks out against short-term rentals during a City Council meeting at City Hall in New Orleans, Thursday, March 23, 2023.

Opponents and supporters of increased regulations have been vocal about their contrasting feelings on the effects of the short-term rental market on the city.

Those against the new rules say the Airbnb-style properties broaden the city's tourism market and provide "necessary supplemental" income to homeowners.

Supporters of the regulations say the influx of vacation rentals, typically driven by outside investors and absentee owners, inflate property costs and taxes for residents. They also believe short-term rentals cater to partiers and have changed the atmosphere of the "once quiet and charming areas."

One New Orleans native in favor of the regulations said his neighborhood has been "taken over by wealthy investors."

"It's become a playground for tourists and for those wealthy investors," he said. "We're becoming a smaller, whiter tourist resort. Less like the city I grew up in with every passing year."

The old regulation limited short-term rental licenses to the license-holder's primary residence – a residence for which they claim a Louisiana homestead property tax exemption, according to The AP, which eliminated out-of-state property owners.

Upon review, a panel of three judges at the 5th U.S. Circuit Court of Appeals unanimously ruled that the aforementioned regulation unconstitutionally restricted interstate commerce.

Dawn Wheelahan, an attorney for short-term rental interests, told The AP on Friday that the challenges in court will continue. Two of her clients are reportedly a woman who has residences in Portland, Oregon, and New Orleans, and a company that manages short-term rentals in various cities.

Wheelahan said the new rules have multiple legal and constitutional problems, adding that the new requirement states only a "natural person" can hold a property license, not a cooperation.

"The prohibition against corporate entities holding permits violates the Supreme Court's 2010 Citizens United decision holding that corporate entities have the same First Amendment rights as natural persons," she said in an email to The AP.

Some people already holding licenses said they are worried about their future income as existing holders who want to renew their licenses will have to win a lottery against other applicants on their block.

"You might put me in a lotto and, just like that, I could lose my retirement income," said one woman, adding that renting part of her house to vacation guests is more lucrative than having long-term tenants. "If I have to go back to long-term rental, I will have to sell my house."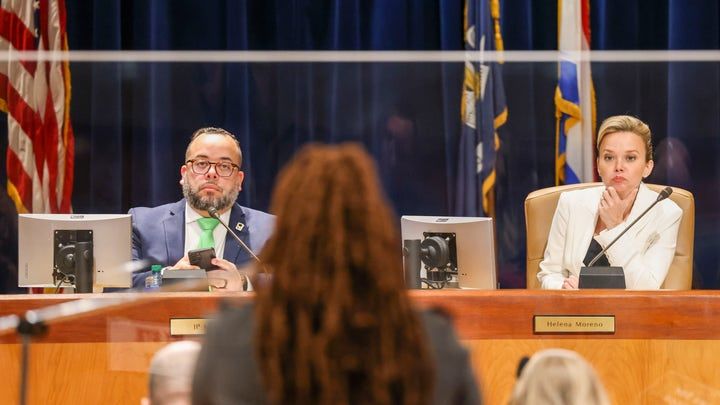 Councilmembers Jean Paul "JP" Morrell and Helena N. Moreno listens to public comments on short-term rentals during a City Council meeting at City Hall in New Orleans, Thursday, March 23, 2023.

Council member Eugene Green said the one-per-block limit is a compromise with the people who want vacation rentals completely eliminated.

"I've seen the signs saying, 'My STR is my retirement,'" Green said. "But for the people that I've spoken to, their homes and their neighborhoods are their retirement."

Council members included an amendment from King that gives property owners the opportunity to apply for an increase in the limit for a given area. In order for the application to be approved, there would be bureaucratic review, public comment from affected neighbors and a vote by the council.