A Manhattan grand jury has indicted Donald Trump while the ex-president is in his Mar-a-Lago home in Florida.
The day has finally come.

A Manhattan grand jury has indicted Donald Trump.

The charges are still under seal, but the Manhattan district attorney's office is expected to have brought charges over falsified records related to his payments to Stormy Daniels to keep her quiet ahead of the 2016 election about an affair she claims she had with him.

Trump, for his part, does not seem happy about the whole situation. On Truth Social and in public statements in the weeks leading up to the indictment, the former president has said the investigation is illegitimate and disparaged Manhattan District Attorney Alvin Bragg, who is Black, as a racist. Trump has denied that there was ever an affair with Daniels, and said he has done "absolutely nothing wrong."

By law, Trump is required to appear before a judge to address the criminal charges. Trump is expected to voluntarily appear next week, Insider's Laura Italiano reports.

Lawyers for the Bragg's office would tell Trump's lawyers, and they'd mutually agree on a time and place — probably the district attorney's office at One Hogan Place in downtown Manhattan — to book him, take his fingerprints, and shoot his mugshot.

"They'll take him upstairs, they'll put him in a holding area, they'll process him internally, and then he'll be brought in front of the judge several hours later and he'll be released on his own recognizance," Michael Bachner, a New York-based lawyer and former assistant district attorney in Manhattan, told Insider in an interview before the grand jury voted to indict Trump. "And that'll be that."

But there is always the chance Trump won't comply.

He's repeatedly attacked the Manhattan investigation over the years and was found in contempt of court for refusing to comply with subpoenas in a different case brought by the New York State Attorney General's office. It's easy to imagine him defying the legal process and remaining home at Mar-a-Lago in Florida.

"It would just be, in my opinion, like the epitome of stupid," Bachner said. "But I do agree that Trump has at times certainly exhibited conduct that many of us would characterize as stupid."

If Trump doesn't show up voluntarily, he'll be extradited. While the nuances of extradition may slightly differ between states, there's no legal way to defy it entirely. Interstate extradition is required by Article 4, Section 2 of the US Constitution. Forcing an extradition process also means Trump could spend hours or days in jail as the process plays out.

"The indictment and the charges are not going to go away," Tamara Holder, a Florida-based attorney and legal commentator, told Insider ahead of the indictment. "This is an early stage of a criminal proceeding, and it's very important that you present yourself to the court early on as somebody who's going to fight the case and not fight the extradition."

Florida law allows for two different forms of extradition. One path runs through Florida Gov. Ron DeSantis, who is widely considered to be Trump's archrival for the Republican nomination in the 2024 presidential election.

DeSantis can't stop Trump's extradition, but he could slow it down

The standard method of interstate extradition in Florida, according to Holder and Bachner, involves the governors of each state.

In that scenario, the Manhattan DA's office would present the indictment to the legal affairs office of New York Gov. Kathy Hochul. Hochul, in turn, would send a written extradition demand to DeSantis. Her letter would attach a copy of the indictment, proving that there's a warrant out for Trump's arrest in New York. DeSantis is then required to make sure the indictment is valid before ordering Trump's extradition from Florida.

DeSantis's role has given rise to the theory, first floated by Politico in 2021, that the governor could refuse to sign off on the extradition and give Trump harbor in Florida.

That simply isn't how it works, Holder and Bachner told Insider. The Florida extradition statute describes the governor's role as simply making sure the extradition demand meets all the legal requirements. That means all DeSantis has to do is make sure Hochul sends her a copy of the indictment and sufficient evidence that Trump's alleged crime took place in New York.

"The governor doesn't have the power to stop an extradition," Holder told Insider, adding: "The governor's only involvement is to look at the papers and make sure that the papers are proper to issue the warrant."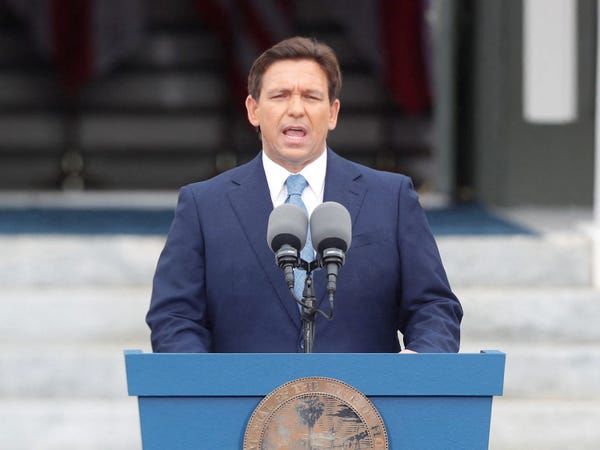 Dave Aronberg, the top prosecutor in Palm Beach County, which includes Trump's home in Mar-a-Lago, said as much in an interview with CNN in 2021.

He pointed out that the governor's power in extraditions is merely administrative.

"The governor's power to stop an extradition is really nonexistent," Aronberg said. "He can try to delay it, he can send it to a committee and do research about it, but his role is really ministerial, and ultimately the state of New York can go to court and get an order to extradite the former president."

DeSantis could, however, slow down the process. According to Bachner, he could ask his legal affairs office or a prosecutor to review Hochul's extradition demand and write a report on it before signing off on it. But if the extradition demand is legitimate, he'll have to sign it within 60 days, Bachner said. He could also delegate and let another member of the Florida executive branch sign off on Hochul's extradition demand, according to Bachner.

It's unlikely that DeSantis will look too closely under the hood of the indictment, Bachner told Insider before news of the grand jury vote Thursday.

"If there's a fully voted indictment, they're not gonna start investigating the underlying facts of the indictment to determine whether it was sufficient or not," Bachner said. "Once there's an indictment voted, it would be shocking that a judge would not order extradition. Trump knows that."

That said, DeSantis may feel pressure from fellow Republicans in the state to protect Trump, according to Holder.

"This is a state where the Republicans really protect each other from these Democratic states like New York," she said. "And so I think it'll be really interesting legally to see what steps they're gonna take here in Florida to protect him outside of this statute if they can."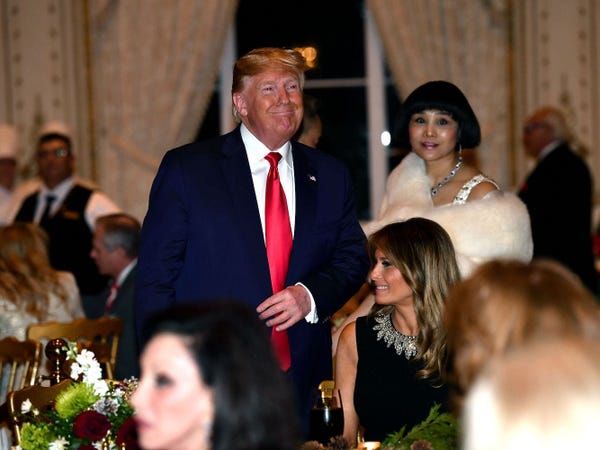 DeSantis's sign-off, however, could give a bipartisan valence to any indictment, undercutting Trump's argument that Bragg's investigation is politically motivated.

"If you have the governor in Florida sending him over, it's kind of just another reinforcement of the propriety of the indictment," Bachner said.

Even if DeSantis approves Hochul's extradition demand and issues a warrant for Trump's arrest, the ex-president still has a chance to stay out of cuffs, according to Bachner. At that point, he has the option of hopping on a plane to New York to turn himself in, Bachner said.

Trump could also contest the warrant in court, but would almost certainly fail to convince a judge the underlying grand jury indictment is invalid, Bachner said. Losing that battle also gives prosecutors the chance to request that Trump be held on bail before he goes to New York, according to Bachner, which would defeat Trump's goal of avoiding jail time.

Florida also has an obscure process that could allow the Manhattan DA to bypass DeSantis

The second form of extradition in Florida is called warrantless pre-requisition arrest. It's more vaguely defined and is traditionally thought to be used for a citizen's arrest of fugitives, but New York prosecutors could likely use it to arrest Trump in Florida, according to Bachner and Holder.

That extradition method only works for felony charges, according to Holder, which means it could apply to the charges Bragg is reportedly seeking.

In that scenario, authorities would arrest Trump in Florida and take him in front of a judge for a probable cause hearing to prove he was criminally charged in New York with a felony. A judge would then order Trump's extradition. Trump's Secret Service detail would likely travel with him, as Insider previously reported, but are unlikely to be involved in any arrest process.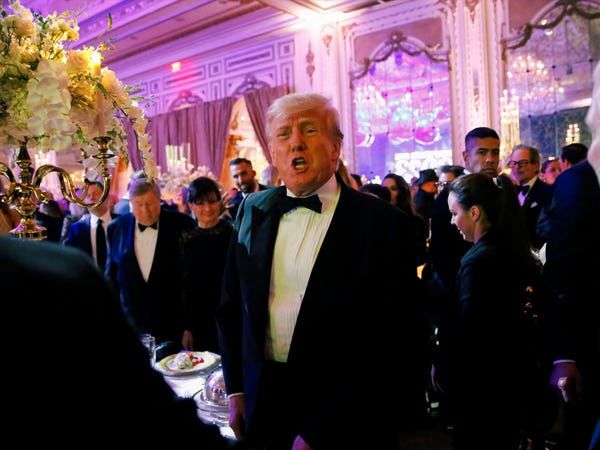 It's unclear, however, who does the arresting. The New York Police Department, which normally conducts arrests for charges brought by the Manhattan DA, does not have jurisdiction in Florida.

"We're not really sure who goes and makes the arrest," Holder said.

The most likely scenario in this case, according to Holder, is that the Manhattan DA's office would ask the Palm Beach sheriff's office to make the arrest since they have jurisdiction in the area. It would likely be up to Manhattan prosecutors, though, to make an argument for extradition in front of the Florida judge.

Trump likely won't have to spend time in jail

After Trump makes an initial appearance in New York court, he'll have a bail hearing, where the judge sets the conditions of his release ahead of trial.

At that hearing, Manhattan prosecutors may ask to keep him in custody or set a high bail amount to ensure he comes back to New York for future court proceedings.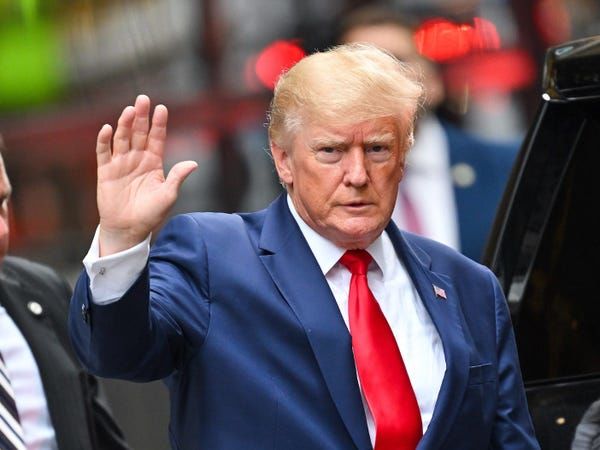 Fighting extradition might increase the chances that New York authorities would see him as a flight risk. But in all probability, there's a low risk he would flee, Holder pointed out. Trump is arguably the most famous person in the world and is running to be reelected as president of the United States. He would have a tough time as a fugitive from US law enforcement.

"He's not being charged with violent crime and he's not a flight risk," Holder said. "He's the former president. The bond would be something low because they can guarantee his return to court."

The judge might also take away Trump's passport, which wouldn't mean much either, since Trump could just ask the judge for permission to fly overseas if he wanted to.

In addition to charges from the Manhattan DA's office, Trump faces a litany of other legal risks ahead of the 2024 election, including criminal investigations in Georgia and from Justice Department Special Counsel Jack Smith, not to mention a smattering of civil lawsuits.

Fulton County District Attorney Fani Willis, in Atlanta, may also be close to making a charging decision against Trump. She's weighing whether to refer the findings of a special grand jury, which investigated Trump's interference in Georgia's 2020 elections, to an ordinary grand jury, which can bring criminal charges.