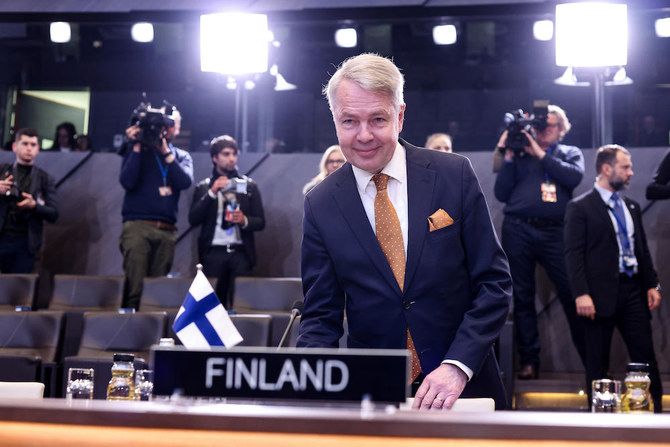 Russia freezes bank accounts of Finland's diplomatic missions, prompting cash payments
Russia has frozen the bank accounts of Finland's diplomatic representations in Moscow and St. Petersburg, disrupting money flow and forcing the country's missions to resort to cash payments, the Finnish foreign minister said Wednesday.
Pekka Haavisto said Moscow's move at the end of April breaches the Vienna Convention on Diplomatic Relations and Helsinki has delivered a diplomatic note on the matter to Russia.

"We're not alone with the money traffic problem," Haavisto told reporters during a news conference. "Also some other European Union nations have encountered problems with money traffic in Russia. But according to our information, restrictions on Finland are among the tightest."

He said Moscow's measure affects, among other things, payment of rents, electricity and water bills by the Finnish Embassy in Moscow and the Consulate General in St. Petersburg, which now have to rely on their cash assets.

The move does not, however, affect salary payments to staff and there is no risk of a closure of Finland's diplomatic missions in Russia, Haavisto said.

Earlier this year, Finland temporarily closed its diplomatic missions in the Russian Arctic city of Murmansk and the city of Petrozavodsk in the Karelia region — both not far from the Finnish border.

Haavisto — the caretaker foreign minister as the new Finnish government is currently under formation — stressed that current EU sanctions on Moscow aren't directed at Russia's embassies and consulates and Helsinki hasn't frozen the bank accounts of Russia's diplomatic missions in Finland.

He didn't see the move as linked to Finland's recent membership in NATO but rather to Russia's ongoing war in Ukraine.

Finland joined NATO last month as the 31st member of the alliance, a historic move after decades of military nonalignment. Finland shares a 1,340-kilometer
border with Russia, the longest of any EU member.