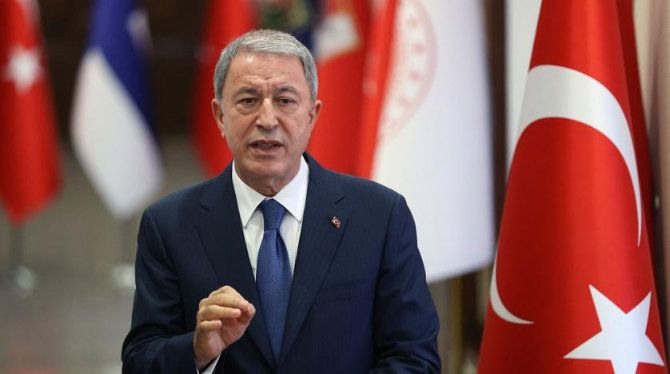 Russia to host new round of talks to normalize ties between Syria and Turkiye
Russia will host a new round of talks on Tuesday aimed at normalizing ties between Turkiye and Syria, Turkiye's defense minister said.
The talks, also involving Iran, will be held in Moscow, Hulusi Akar said on Monday.

They will be attended by the defense and intelligence chiefs of all four countries.

Russia is seeking to repair ties between Ankara and its ally Damascus, which were severed at the start of Syria's civil war in 2011.

"We are preparing for a meeting to be attended by defense ministers and intelligence chiefs" of Turkiye, Russia, Syria and Iran, Akar said.

"Our aim is to solve the problems through negotiations and to bring peace to the region as soon as possible."

Ankara and Damascus have had few formal contacts since Turkiye began backing opposition effort to topple Syrian President Bashar Assad.

But Turkish President Recep Tayyip Erdogan has opened up to the idea of holding a peace-building summit with the Syrian leader.

Russian President Vladimir Putin has backed Erdogan's efforts.

But Assad, whose country is slowly coming out of its regional isolation, has said he will only meet Erdogan if Turkiye withdraws troops from northern Syria.

Erdogan says he needs the military presence as a security precaution against attacks on Turkiye by Kurdish groups, which Ankara views as terrorists but which played a central role in the US-led campaign against terrorists.

Earlier this month, diplomats from Iran, Russia, Turkiye and Syria met in Moscow to pave the way for a foreign ministers' meeting.

The EU has imposed sanctions on cousins of Assad over the trafficking of stimulant drug Captagon, a key source of income for the regime.

An AFP investigation in November found that Syria has become a narco-state with the $10 billion industry in Captagon dwarfing all other exports and funding both Assad and many of his enemies.

The latest move saw the EU follow Western allies, the US and Britain, in imposing asset freezes and visa bans on Wasim Badi Assad and Samer Kamal Assad.

"The trade in amphetamine has become a regime-led business model, enriching the inner circle of the regime and providing it with revenue that contributes to its ability to maintain its policies of repression against the civilian population," the EU said.

A third cousin of the president, Mudar Rifaat Assad, was also included on the blacklist, although no explicit reason was given.

The US Treasury Department says Samer Kamal Assad owns a factory in the coastal city of Latakia that produced 84 million captagon pills in 2020.

Others targeted in the EU sanctions include Nouh Zaitar, Lebanon's most famous drug lord who is on the run from authorities, and Hassan Dekko, a Lebanese-Syrian drug kingpin with high-level connections in both countries.

The EU also imposed sanctions against private security firms for helping the Syrian regime recruit fighters and Russian engineering and construction company Stroytransgaz over its control of the country's largest phosphate mines.