Russian journalist Maria Ponomarenko has been jailed for six years for posting on social media about a deadly attack by Russian warplanes on a theatre in Ukraine.
The court in Barnaul in Siberia found her guilty of spreading "fake news", under laws introduced aimed at stifling dissent about the invasion of Ukraine.

She was also barred from activities as a journalist for five years.

Hundreds of civilians died when the Mariupol theatre was bombed last March.

Ponomarenko was detained last April, weeks after the bombing, for posting that Russian warplanes had carried out the attack even though the Russian defence ministry had denied it.

She is one of a growing number of Russian dissidents jailed for criticising the war in Ukraine.

Some 1,200 civilians were seeking shelter inside the theatre when it was bombed by Russian fighter jets. Ukrainian authorities believe 300 people were killed but an Associated Press investigation said the number was closer to 600. Many of the bodies were found in the basement.

Amnesty International said it was a war crime carried out by Russian forces and the international monitoring group OSCE said it had not received any indication to back up Russian allegations that a Ukrainian battalion had blown up the theatre.
Prosecutors said Maria Ponomarenko had committed a criminal offence brought in within days of the invasion of spreading "knowingly false information" about the Russian armed forces.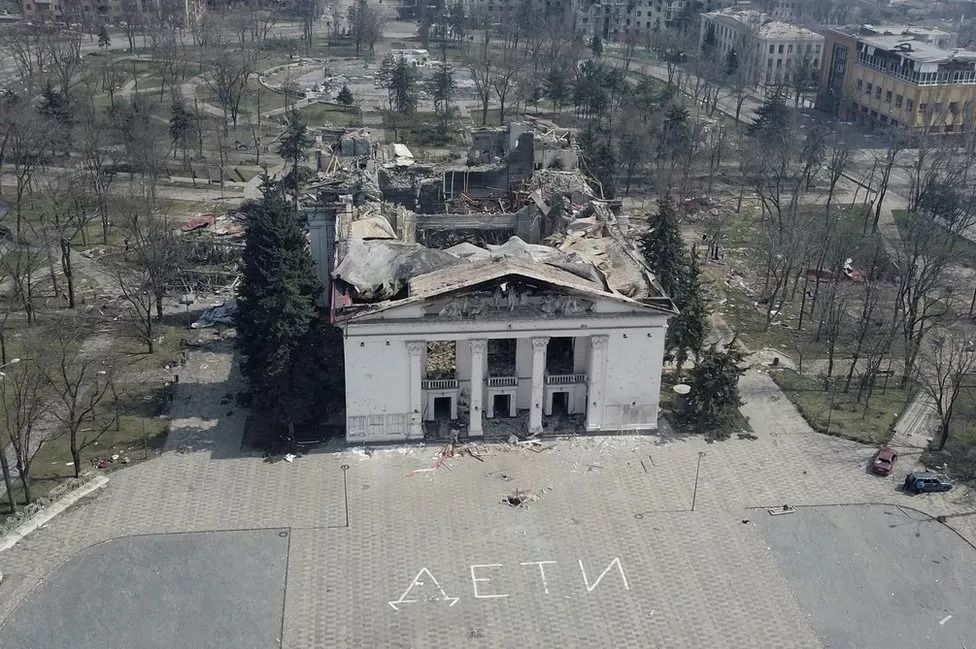 Residents had written the Russian word for "children" outside the theatre in an attempt to stop Russian airstrikes
Addressing the court ahead of her sentence she stressed that under Russia's constitution she had done nothing wrong: "Had I committed a real crime then it would be possible to ask for leniency, but again, due to my moral and ethical qualities, I would not do this."
Declaring herself a patriotic, opposition pacifist, she ended her address by saying: "No totalitarian regime has ever been as strong as before its collapse."
The journalist and activist, who has two young children, has suffered mental health problems in jail, according to her lawyer, and last year compared her conditions in pre-trial detention to torture.
Last summer, Moscow councillor Alexei Gorinov was jailed for seven years after he was filmed speaking out against Russia's war in Ukraine in a city council meeting. Earlier this week a UN working group called for his release, concluding that his detention was arbitrary and contravened the Universal Declaration of Human Rights.
In December one of Russia's most prominent opposition figures, Ilya Yashin, was jailed for eight-and-a-half years for spreading "fake news" about the military after he went on YouTube to condemn the killing of hundreds of Ukrainian civilians by Russian occupying forces in Bucha, near Kyiv.