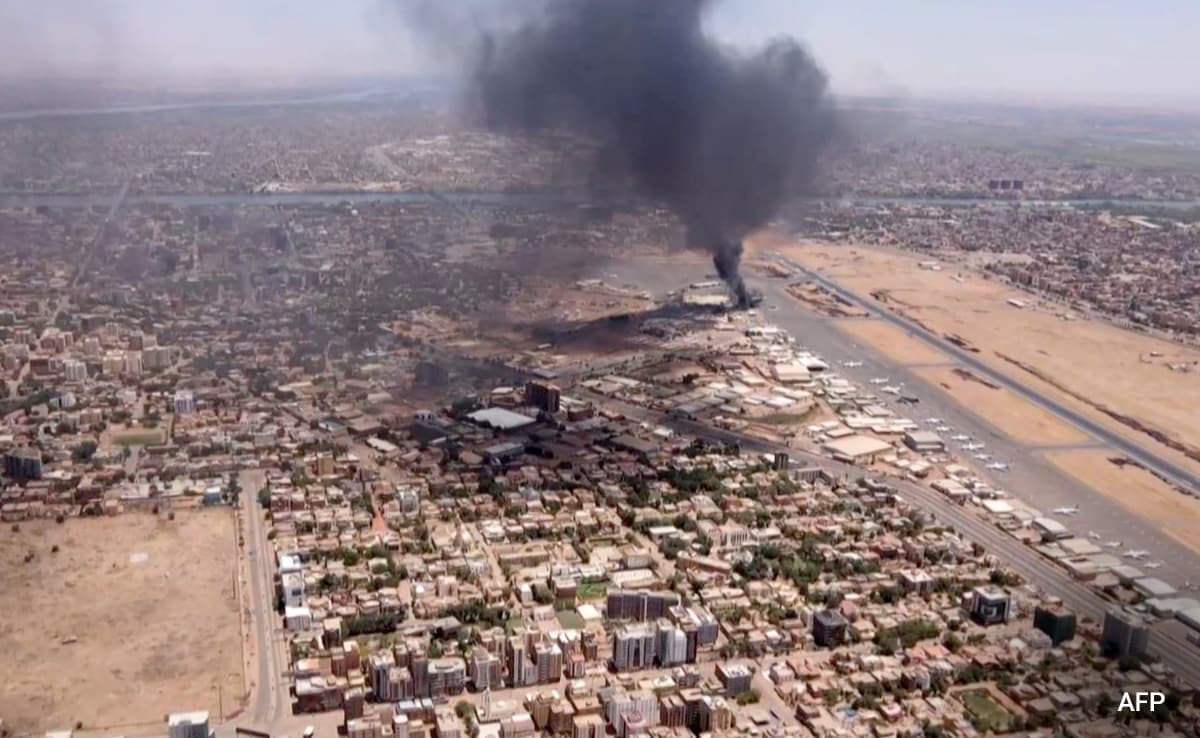 Sudan Rivals Agree To 72 Hours Ceasefire After Hundreds Killed: US
Sudan Crisis: According to US, at least 427 people have been killed and more than 3,700 wounded since violence began between two generals.
Sudan's battling generals have agreed to a three-day ceasefire, US Secretary of State Antony Blinken said Monday, after 10 days of urban combat killed hundreds, wounded thousands, and sparked a mass exodus of foreigners.

Previous bids to pause the conflict failed to take hold but Blinken announced: "Following intense negotiation over the past 48 hours, the Sudanese Armed Forces (SAF) and the Rapid Support Forces (RSF) have agreed to implement a nationwide ceasefire starting at midnight on April 24, to last for 72 hours."

Blinken's statement came two hours before the truce was to take effect.

It came after the UN chief warned Sudan is on "the edge of the abyss" following fighting between the rivals who have waged unprecedented battles in the capital, Khartoum, as well as elsewhere in the country.

The fighting pits forces loyal to army chief Abdel Fattah al-Burhan against those of his former deputy Mohamed Hamdan Daglo, who commands the paramilitary Rapid Support Forces (RSF).

The RSF emerged from the Janjaweed militia that then-president Omar al-Bashir unleashed in Darfur, leading to war crimes charges against Bashir and others.

At least 427 people have been killed and more than 3,700 wounded, according to UN agencies.

Among the latest to die was the assistant administrative attache at Cairo's embassy in Khartoum, Egypt's foreign ministry said. The official was killed while heading from home to the embassy to follow up on evacuation procedures, it said.

More than 4,000 people have fled the country in foreign-organised evacuations that began on Saturday.

The United States and multiple European, Middle Eastern, African and Asian nations launched emergency missions to bring to safety their embassy staff and Sudan-based citizens by road, air and sea.

But millions of Sudanese are unable to flee.

They are trying to survive acute shortages of water, food, medicines and fuel as well as power and internet blackouts.

UN agencies reported some Sudanese civilians were able to escape "areas affected by fighting, including to Chad, Egypt and South Sudan".

"Morgues are full. Corpses litter the streets" said Attiya Abdallah, head of the doctors' union, which on Monday reported scores more casualties after sites in south Khartoum were "heavily shelled".

UN Secretary-General Antonio Guterres warned that the violence in Sudan -- already one of the world's poorest countries, with a history of military coups -- "could engulf the whole region and beyond".

"We must all do everything within our power to pull Sudan back from the edge of the abyss," Guterres said.

He had also, again, called for a ceasefire.

Britain requested an emergency UN Security Council meeting on Sudan, which was expected to take place on Tuesday, according to a diplomat.

A UN convoy carrying 700 people completed an arduous 850 kilometre (530 mile) road trip to Port Sudan on the Red Sea coast from the capital, where they left behind gunfire and explosions.

The United Nations head of mission Volker Perthes said the convoy arrived safely.

"Thirty-five hours in a not so comfortable convoy are certainly better than three hours' bombing and sitting under the shells," he said.

A UN statement separately said he and other key staff will "remain in Sudan and will continue to work towards a resolution to the current crisis".


'Unspeakable destruction'


With Khartoum airport disabled after battles that left charred aircraft on the tarmac, many foreigners were airlifted out from smaller airstrips, to countries including Djibouti and Jordan.

US special forces swooped in with Chinook helicopters Sunday to rescue diplomats and their dependents, while Britain launched a similar rescue mission.

European Union foreign policy chief Josep Borrell said more than 1,000 EU citizens had been taken out during a "long and intense weekend" involving airlift missions by France, Germany and others.

China said Monday it had "safely evacuated" a first group of citizens and would "try every means to protect the lives, properties and safety of 1,500 plus Chinese compatriots in Sudan".

The capital, a city of five million, has endured "more than a week of unspeakable destruction", Norway's ambassador Endre Stiansen wrote on Twitter after his evacuation.

The International Crisis Group of analysts warned the fighting threatens to "quickly plunge the country into a full-scale war embroiling countless armed groups".

One evacuee, a Lebanese man, told AFPTV upon his arrival by bus in Port Sudan that he left only "with this T-shirt and these pyjamas, all that I have with me after 17 years."

Those Sudanese who can afford to are also fleeing Khartoum on crowded buses on the more than 900-kilometre desert drive north to Egypt.

Among the 800,000 South Sudanese refugees who previously fled civil war in their own country, some are choosing to return, with women and children crossing the border, said the UN refugee agency.


'Anxiety and exhaustion'


In the capital, street battles have left the sky often blackened by smoke from shelled buildings and torched shops.

"There was a rocket strike in our neighbourhood ... It is like nowhere is safe," said resident Tagreed Abdin, an architect.

Experts have long drawn links between the RSF and Russian mercenary group Wagner. Blinken earlier on Monday voiced "deep concern" that Wagner risked aggravating the war in Sudan.

The military toppled Bashir in April 2019 following mass citizen protests which raised hopes for a transition to democracy.

The two generals seized power in a 2021 coup, but later fell out, most recently over the planned integration of the RSF into the regular army.