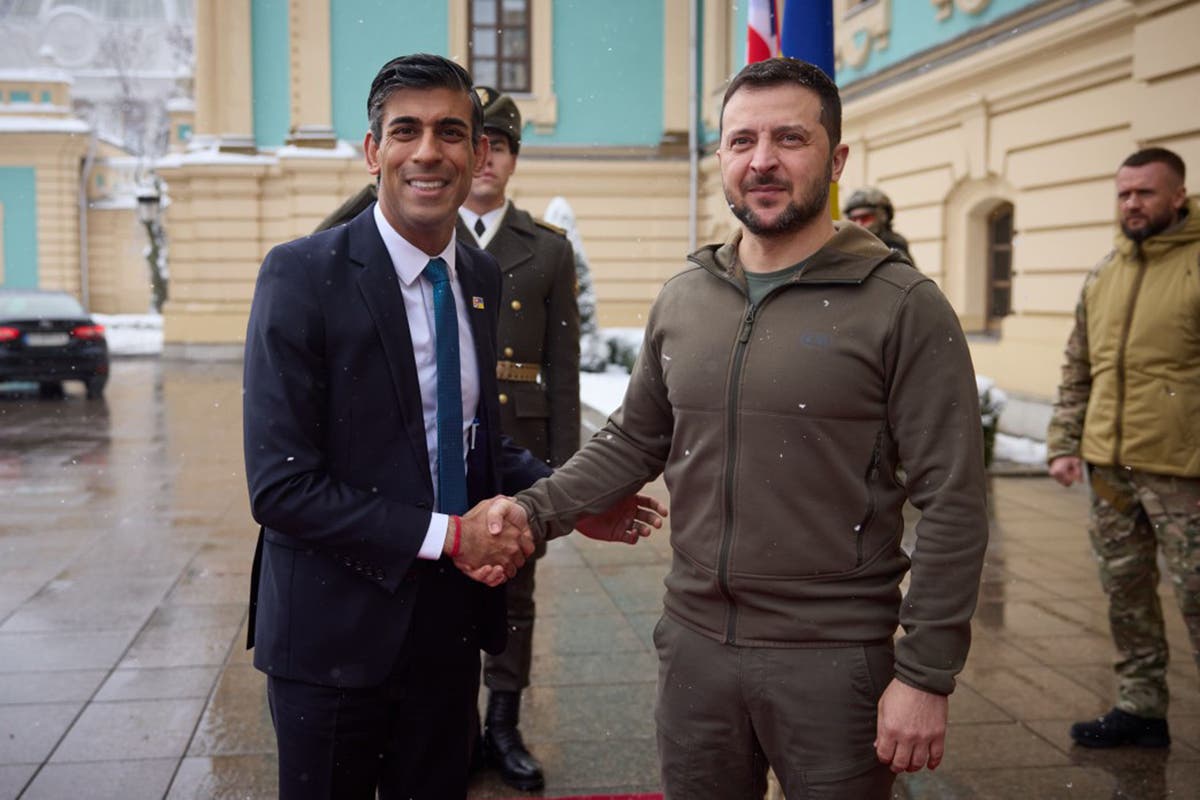 Sunak promises Zelensky more military equipment for 'Ukraine battlefield victory'
Rishi Sunak promised Volodymyr Zelensky more military equipment from Britain in the coming months "to secure Ukraine's victory on the battlefield".
The Prime Minister also stressed the UK's "long term" commitment to supporting Ukraine in its fight to defeat Vladimir Putin's invasion launched more than ten months ago.

The two leaders spoke by phone on Tuesday after the Ukranian president braced his people for waves of drone attacks by Putin's military to try to break their will to resist his invasion, and to destroy the country's infrastructure including energy and water supplies.

After the talks, a Downing Street spokesperson said: "The Prime Minister spoke to the President of Ukraine, Volodymyr Zelensky, this afternoon.

"The leaders discussed the abhorrent drone attacks on Ukraine in recent days, and the Prime Minister said the thoughts of the UK were with the Ukrainian people as they continued to live under such bombardment.

"The Prime Minister said Ukraine could count on the UK to continue to support it for the long term, as demonstrated by the recent delivery of more than 1000 anti-air missiles.

"Work was also underway to provide further equipment in the coming weeks and months to secure Ukraine's victory on the battlefield, the Prime Minister added."

Mr Sunak stressed that the UK and Joint Expeditionary Force partners were "working closely to provide the vital equipment requested" by Kyiv.

The two leaders are due to speak again in coming weeks.

Mr Zelensky, whose forces rely heavily on weapons and other equipment provided by Western nations, also spoke with Dutch Prime Minister Mark Rutte on Tuesday.

"We agreed to intensify our efforts to bring victory closer this year already," the Ukrainian president said on the Telegram messaging app of his call with Mr Sunak.

Russia has launched what have become nightly waves of drone attacks on Kyiv and other Ukrainian cities.

Mr Zelensky said in his nightly video address that the attacks were aimed at "exhausting our people, our anti-aircraft defences, our energy".

Ukrainian air force spokesperson Yuriy Ihnat told Ukrainian TV that 84 drones had been shot down in two Russian attacks since the New Year.

Ukraine's armed forces are organising mobile groups to hunt them down, using jeeps and other vehicles equipped with anti-aircraft machine guns and searchlights, Mr Ihnat said.

Russia, which invaded Ukraine on February 24 last year, has increasingly resorted to mass air strikes against Ukrainian cities after suffering defeats on the battlefield in the second half of 2022.

The Kremlin denies that the Russian military is targeting civilians but cities, towns and villages have come under heavy shelling and air attacks.

Tens of thousands of civilians are reported to have been killed in Putin's war.

Ukrainian officials said Russia had struck Ukraine-controlled parts of the Donetsk region on Monday, hitting the village of Yakovlivka, the city of Kramatorsk and destroying an ice rink in Druzhkivka.

The governor of Ukraine's Luhansk region, which along with neighbouring Donetsk forms the industrial Donbas claimed by Moscow, said on Tuesday Ukrainian forces had made steady advances in the direction of Russian-held Svatove and Kreminna.

Meanwhile, Russian nationalists and some lawmakers have demanded punishment for commanders they accused of ignoring dangers as anger grew over the killing of dozens of Russian soldiers in one of the deadliest strikes of the Ukraine conflict.

In a rare disclosure, Russia's defence ministry said 63 soldiers were killed in the Ukrainian strike on New Year's Eve that destroyed a temporary barracks in a vocational college in Makiivka, twin city of the Russian-occupied regional capital of Donetsk in eastern Ukraine.

Russian critics said the soldiers were being housed alongside an ammunition dump at the site, which the Russian defence ministry said was hit by four rockets fired from US-made HIMARS launchers.

TV footage showed a huge building reduced to rubble as cranes and bulldozers picked through concrete debris lying several feet deep.

Ukraine and some Russian nationalist bloggers have put the Makiivka death toll in the hundreds, though pro-Russian officials say those estimates are exaggerated.

Russia's Defence Ministry on Tuesday announced several offensives, including strikes launched by Russian Aerospace Forces that it claimed had killed more than 130 foreign mercenaries in Donetsk.

It said missile and air strikes launched at a "hardware concentration" near Druzhkivka railway station in Donetsk had killed "up to" 120 Ukrainian personnel, destroyed two HIMARS launchers and more than 800 rockets.