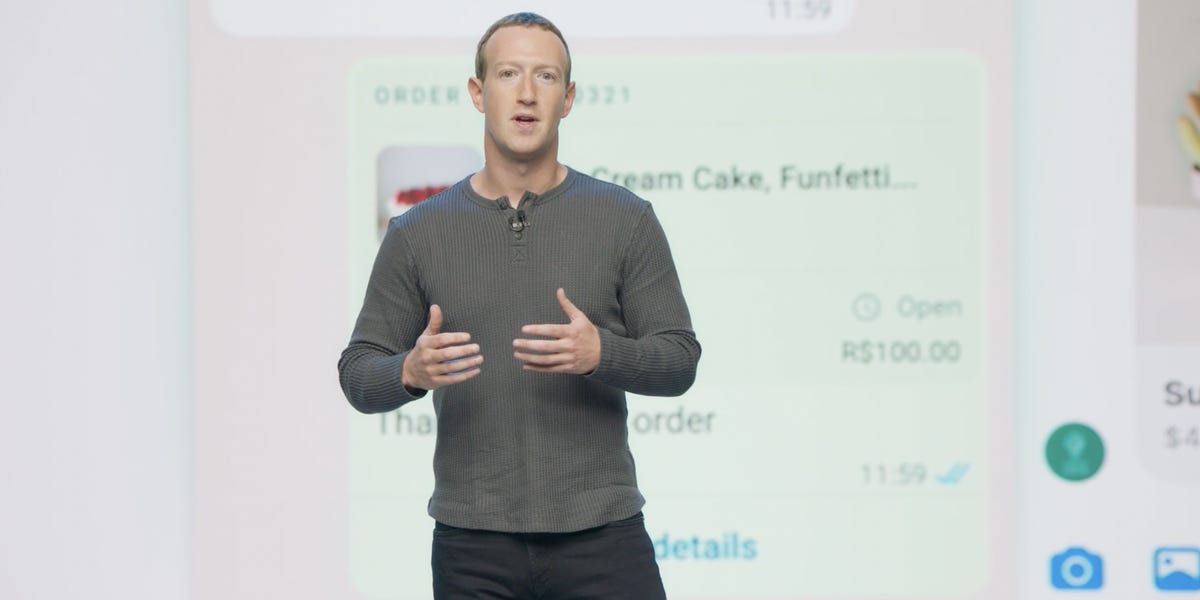 The 6 big takeaways from Mark Zuckerberg's lengthy layoffs post
Meta is shrinking, investing in AI, and creating an "optimal ratio of engineers" compared to other roles, CEO Mark Zuckerberg wrote in a long post.
Meta is slashing both jobs and projects to cut costs

With the 10,000 layoffs, Meta wants to make its chain "flatter" by making more managers "individual contributors," according to the post. Zuckerberg also said that managers should have few reports, 10 max.

The layoffs "will mean saying goodbye to talented and passionate colleagues who have been part of our success," he acknowledged.

Zuckerberg also described less important projects as a potential burden on personnel resources and other logistics like IT support and infrastructure like even laptops, which signaled a focus on the company's spending.

"Indirect costs compound and it's easy to underestimate them," he wrote.


Jobs in recruiting, tech, and business will be hit, but Zuckerberg wants to 'keep technology the main thing' for Meta

As Meta slows hiring, it will lay off members in its recruiting department, Zuckerberg wrote. Those employees will be among the first to learn their fates at the company as soon as Wednesday, he said.

Others will be informed in the coming months — those on the company's tech teams will hear in April, while those laid off from business teams will learn about it in May, he wrote.

Zuckerberg also said the company was striving for a more "optimal ratio of engineers to other roles," though he didn't put a number to it.

Some of the restructuring moves would take longer to implement, he said, noting that international employees, for instance, would be on a separate schedule.

"In a small number of cases, it may take through the end of the year to complete these changes," he said.


Meta has big AI plans

Zuckerberg said that artificial intelligence marks the company's "single largest investment," and added that the company wants it in "every one of our products."

Amid the frenzy over OpenAI's ChatGPT and similar versions of generative AI tools since then, Meta last month unveiled its own new AI model called "LLaMA," which it said was meant to support more research into such tools.

"We have the infrastructure to do this at unprecedented scale and I think the experiences it enables will be amazing," Zuckerberg wrote on Tuesday.

The move appears to mark a shift from his previously hyped metaverse, often described as a kind of virtual digital world. But he said on Tuesday that "building the metaverse and shaping the next generation of computing platforms also remains central to defining the future of social connection."


Zuckerberg warns the economy could stay rough for a while

"At this point, I think we should prepare ourselves for the possibility that thisnew economic reality will continue for many years," he wrote, pointing to factors often cited for the turmoil facing companies and markets, including rising interest rates and "geopolitical instability."

"Given this outlook, we'll need to operate more efficiently than our previous headcount reduction to ensure success," he wrote.


Meta found that early-career engineers may do better working in person more often

Zuckerberg wrote that Meta reviewed its "performance data" and found that early-career engineers were able to do better if they worked with colleagues in person "at least three days a week."

Zuckerberg also added that the analysis "requires further study." The company allows those who can work remotely to apply to do that, while others mostly work in the office, Insider has reported.


Morale is going to take a hit

"I also recognize that the idea of upcoming org changes creates uncertainty and stress," he wrote. "My hope is to make these org changes as soon as possible in the year so we can get past this period of uncertainty and focus on the critical work ahead."

A Meta spokesperson declined to comment.