For the ninth week in a row, tens of thousands of demonstrators gathered across Israel on Saturday night to protest Prime Minister Benjamin Netanyahu's controversial attempt to overhaul the country's legal system. A move that critics argue could threaten Israel's democracy.
The reforms were proposed in January, weeks after Netanyahu's ultranationalist coalition was sworn in.

The controversy around the reforms stems from fears that the changes would weaken the country's Supreme Court, limit judges' powers and threaten democratic institutions. Netanyahu and his allies say that the changes are necessary and would rein in an unelected judiciary.

Tel Aviv saw the largest turnout in this week's protests, with smaller demonstrations in several locations across the country.

In the city, the protesters waved Israeli flags and pictures depicting Netanyahu as Caesar, while others waved Palestinian and pride flags.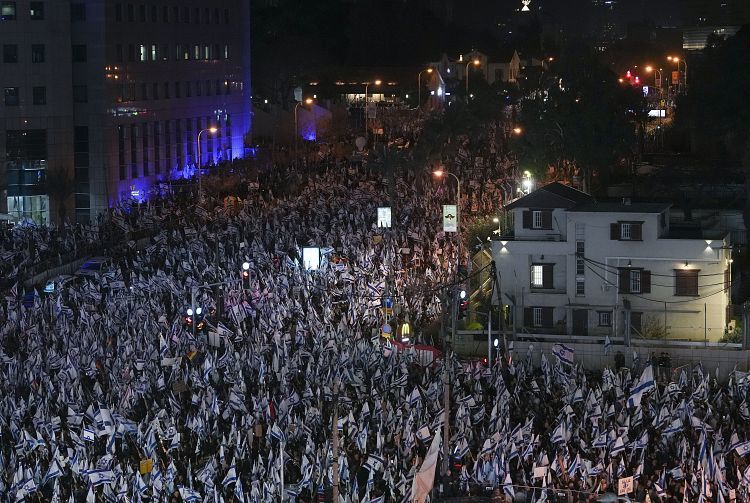 "I love my country, I am a Zionist and I want Israel to remain a Jewish and democratic country," Revital Levi, a protester in Tel Aviv, said. "We need a strong, autonomous judiciary and a separation of powers," to "guarantee democracy."

"We want to fight for what is right. And there should be a constitution ... and stable judicial system that needs some fixing, but not as impulsive as this crazy right-winger who kidnapped democracy, wants it to be," Draw Beer, another demonstrator, said.

During a similar protest on Wednesday, Israeli police fired stun grenades and water cannons at demonstrators who blocked a highway in Tel Aviv.

Two key provisions of the reform – including changing the appointment process for judges and a limit on the Supreme Court's ability to intervene in laws passed by Parliament - have already been adopted by deputies in their first reading.

The country's opposition, including its leader Yair Lapid, has repeatedly accused Netanyahu of heading the reforms for his own personal interests. The country's Prime Minister is currently on trial for corruption, fraud, and breach of trust charges.