A convicted murderer with links to Italy's powerful 'ndrangheta organised crime group has been arrested in France after 16 years on the run.
Suspected mob hitman Edgardo Greco, 63, had spent the last three years working as a pizza-maker in Saint Etienne, where he had lived since 2014.

He was convicted in his absence of the murders of two brothers who were beaten to death with a metal bar in a fish shop in Calabria in 2006 as well as the attempted murder of another man.

Interpol said the killings were 'part of a "mafia war" that marked the early 1990s' in Italy.

His arrest reportedly came after he made the local newspaper for his pizza-making skills under his fake name in 2019.
The alias was said to be taken from an infamous gangster from Puglia, which caught the eye of Italian anti-mafia cops.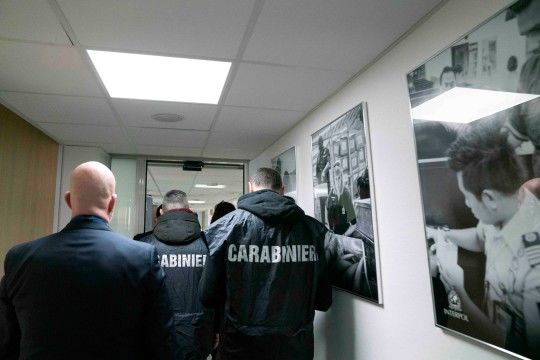 Italian carabinieri walk in a corridor at the Interpol headquarters in Lyon, central France
Interpol chief Jurgen Stock said: 'No matter how hard fugitives try to slip into a quiet life abroad, they cannot evade justice forever.'
The 'ndrangheta, based in the 'toe' of the Italian peninsula, is one of the world's most powerful cocaine traffickers and is seen as the largest threat among organized crime syndicates.
In recent years, 'ndrangheta mobsters have been arrested around Europe and even in Brazil.
Greco's arrest comes after Italy's number one fugitive mafia boss was arrested after evading justice for 30 years.

Matteo Messina Denaro was convicted of dozens of murders, including helping to mastermind, along with other Cosa Nostra bosses, a pair of 1992 bombings that killed top anti-Mafia prosecutors.

His reign of terror led the Italian state to stiffen its crackdown on the Sicilian crime syndicate.

He faces multiple life sentences that he is expected to serve in a maximum security prison and under the particularly restrictive conditions reserved for top organized crime bosses.