The Kremlin has denied interfering in Turkey's elections after the opposition candidate, Kemal Kilicdaroglu, accused Russia of "meddling".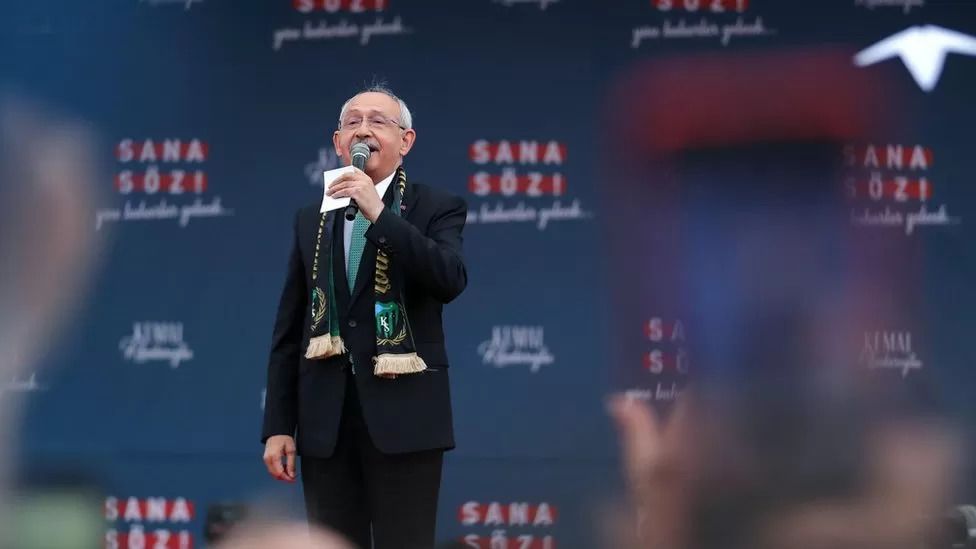 Kemal Kilicdaroglu is seen as having a serious chance to unseat longstanding President Erdogan in Sunday's election
Spokesman Dmitry Peskov said Russians did not interfere in internal affairs of other states.

He added: "If someone has presented Mr Kilicdaroglu with such information, then they are liars."

Mr Kilicdaroglu is seriously challenging strongman President Recep Tayyip Erdogan, in power for 20 years.

The opposition leader has not provided details about his claims.

However, in a Twitter post which was also shared in Russian on Thursday, Mr Kilicdaroglu said that Russians were behind "montages, plots, deep fake content and tapes released in this country".

Mr Kilicdaroglu also said that if Russia wanted Turkey's "friendship" after this weekend's election it should "get [its] hands off the Turkish state. We are still in favour of cooperation and friendship."

Mr Peskov insisted that Russia "very much values" its relations with Turkey.

"The Republic of Turkey has so far taken a very responsible, sovereign and thought-out stance on a whole range of regional and global problems that we face. And this position has made a positive impression on us," he said on Friday.

The Twitter post was not the first reference to alleged Russian meddling that Mr Kilicdaroglu has made. Earlier this month, he warned government officials against making deals with what he called the "dark web" to "interfere" in the vote.

He alleged that deals had been made by the Turkish government with "serious foreign hackers" who were were paid in Bitcoin currencies. Presidential Communications Director Fahrettin Altun dismissed the remarks as "irrational slander".

Mr Kilicdaroglu recently told the BBC that, if he wins the presidency, he will reorient Turkey, and prioritise relations with the West, not the Kremlin.

However, his foreign policy adviser Unal Cevikoz told the Russian state-backed channel RT that "there will not be serious change in foreign policy" towards Russia and that he believes Mr Kilicdaroglu "will have good relations" with Russia's Vladimir Putin.

Former civil servant Mr Kilicdaroglu, who is 74, will represent a coalition of opposition groups at Sunday's election. He is thought to have a serious chance to unseat Mr Erdogan.

More than 64 million people are expected vote at home and abroad.

If no candidate gets at least 50% plus one vote in the first round, the presidential election will go to a second round on 28 May between the two who received the most votes.