The 69-year-old leader suspended all campaigning for Turkey's pivotal May 14 election after getting sick while conducting a live TV interview on Tuesday evening.
Turkey's ailing President Recep Tayyip Erdogan on Thursday re-emerged from a two-day absence and spoke by video link with Vladimir Putin at a virtual ceremony unveiling a Russian-built nuclear power plant.

The 69-year-old leader suspended all campaigning for Turkey's pivotal May 14 election after getting sick while conducting a live TV interview on Tuesday evening.

Erdogan said he had developed an upset stomach while hopping between five cities for rallies and public project launches at the start of the week.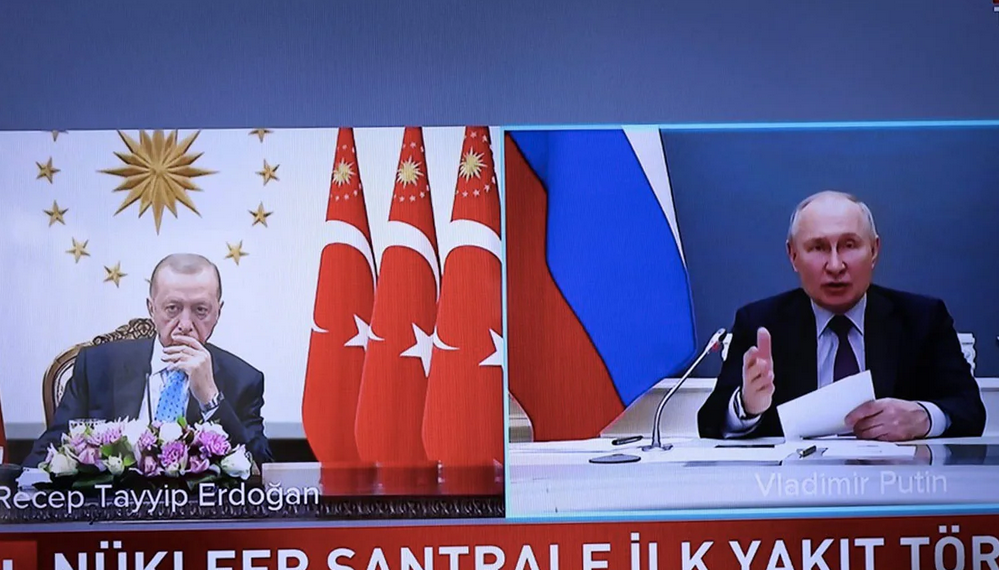 Health Minister Fehrettin Koca said on Thursday that Erdogan had "infectious gastroenteritis" -- a short-term illness caused by the inflammation of the digestive tract.

But the scare forced Erdogan to cancel events on Wednesday and then stay at home instead of travelling to the Mediterranean coast for Thursday's grand opening of Turkey's first nuclear power plant.

The video appearance represented Erdogan's effort to project health and vigour at one of the more vulnerable moments of his two-decade rule.

But he looked wan and visibly frail as he addressed Putin and the nation from behind his presidential desk.

"Our country has risen to the league of nations with nuclear power, albeit after a 60-year delay," Erdogan said in prepared remarks.


'Disinformation'

Erdogan is known for his love of campaigning and embrace of political fights.

Polls suggest either that he is running neck-and-neck or losing against opposition leader Kemal Kilicdaroglu in Turkey's most momentous election in decades.

His Islamic-rooted party's control of parliament through an alliance with a far-right group is also under threat.

Erdogan had used his rallies to launch fierce attacks at the opposition and portray himself as a man who gets the job done.

That image has been shaken -- and his office is fighting back.

The president's powerful media director Fahrettin Altun posted screen shots on Twitter of Chinese state media and some popular accounts speculating about Erdogan's condition being more serious than officially reported.

"We categorically reject such baseless claims regarding President Erdogan's health," Altun wrote.

"No amount of disinformation can dispute the fact that the Turkish people stand with their leader and Erdogan and his AK Party are set to win the May 14 elections."


Guarded Secret

Rumours about Erdogan's health have been circulating since he underwent two gastrointestinal surgeries in 2011 and 2012.

The operations left him with a slight hitch in his gait that appears to have fed some of the social media speculation.

Turkey does not publicise the results of its leaders' health evaluations and it is illegal to "insult the president".

Thousands of people have been prosecuted for the offence -- punishable by either a fine or a jail term of up to four years.

Turkey's main opposition leaders all quickly tweeted messages wishing Erdogan a speedy recovery.

Erdogan's video linkup with Putin unveiled a project that Russia began building during a chill in Ankara's relations with its Western allies in 2018

Construction of the Akkuyu plant was complicated by sanctions the West imposed on Russia for its invasion of Ukraine.

"Yes, we have certain logistical problems," Akkuyu plant director Sergei Butskikh told reporters on the eve of the launch.

"The transportation routes are getting longer. Not all of the shipping companies are able to work with us. So here yes, we feel the sanctions," he added.

"But this has not affected the quality of the plant's construction."

Erdogan has been one of the few world leaders to maintain good relations with Putin by refusing to sign up to Western sanctions on Russia and trying to mediate an end to the war.