Opinions among Twitter users run the gamut on the value of the check mark, and whether it's worth the $8 a month.
Twitter Inc.'s new owner, Elon Musk, is purging the social network's free legacy labels as of April 1 and replacing them with a new designation that he says will make the platform more egalitarian and generate much-needed revenue. But legions of users are balking at forking over the $8 a month fee, and some say the pay-to-play system, dubbed Twitter Blue, will make it easier for pranksters, hoaxers or criminals to pose as someone they're not - potentially facilitating use of the site to spread misinformation and sow discord.

Musk bought Twitter in late October, promising to make it a haven for free speech and battle the bots he said were degrading the social network's user experience. One of his original promises was that people who previously had been "verified" by the system, for free - a badge of prominence that told others you were real and possibly also famous - would lose their status. Since Musk's takeover, an increase in offensive speech and fumbles around verification and content moderation have led hundreds of advertisers to pull spending from the platform, causing ad sales to decline by 50%. Paid verification as part of Twitter Blue is an attempt to make up for that lost revenue.

Opinions among Twitter users run the gamut on the value of the check mark, and whether it's worth the $8 a month - discounted to $84 if you buy a whole year, but $11 per month if you buy it through the Apple or Google app store. Some users say they'll refuse to subscribe to Twitter Blue because they don't want to support Musk, the world's second-richest person, or because they object to paying for the reach that they used to be able to earn on merit. Others are willing to pony up for the credibility and exposure that comes with verification.

Businesses likewise will have to choose whether to pay thousands of dollars for their accounts' verification - under the new system, organizations will pay $1,000 per month for verification, with some exceptions, plus $50 for each employee that also gets a check - or face increased risk of imitation on the platform. The potential danger of declining to verify is that fake accounts with paid check marks could pose as any business, including financial firms or media organizations, and then perpetuate scams or spread misinformation. In November, when Musk opened up verification to paying users, Twitter accounts with check marks began impersonating companies such as Eli Lilly & Co., PepsiCo Inc., Nintendo Co. - and even Musk himself.
By charging for access to visibility and reach, the essential features of a social network, Twitter risks alienating users who have always had those features for free, some analysts and observers say, and the uptake isn't likely to be enough to stanch the loss of revenue from advertising. So far, fewer than 300,000 people have signed up, according to the Information.
"It's unlikely that most people who have legacy blue check marks will care enough to start paying for them," said Insider Intelligence analyst Jasmine Enberg. "Revenues from Twitter Blue won't make up for the ad revenue losses Twitter has incurred since Musk took over," she said.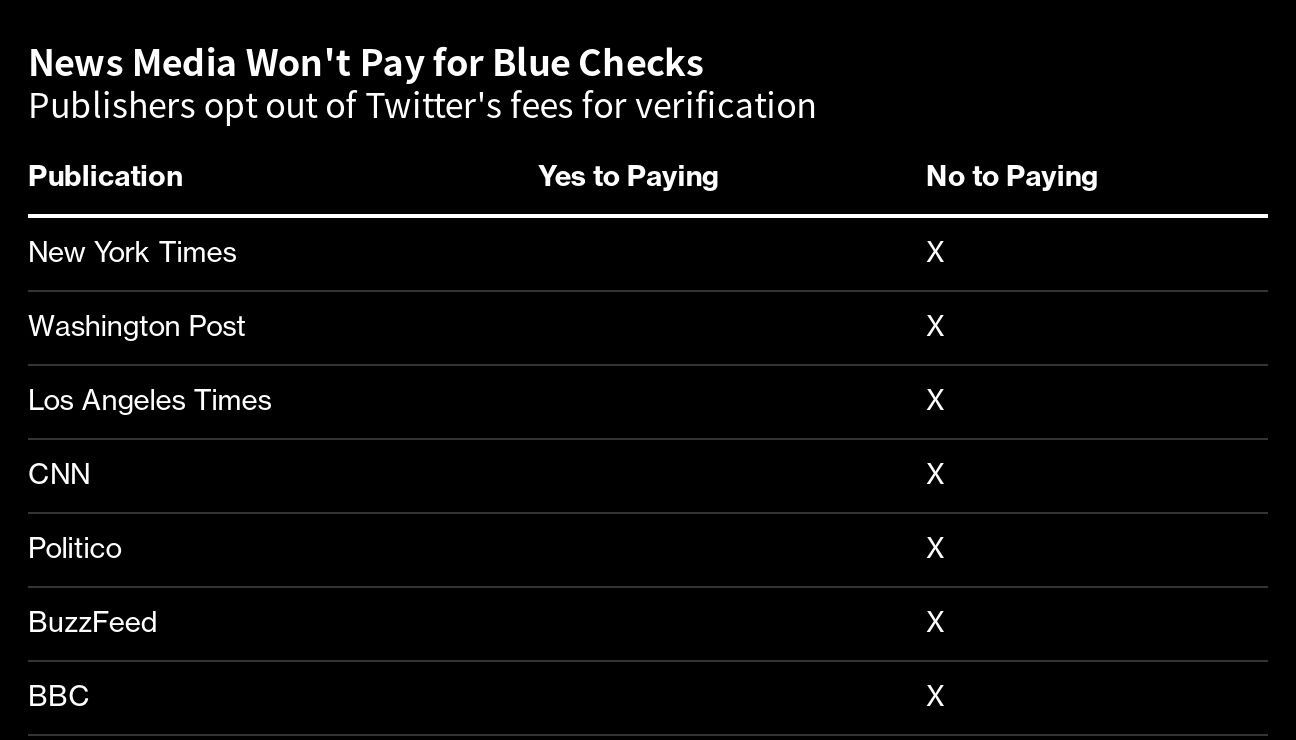 The selling of check marks also has the potential to minimize the voices of users who don't subscribe. Twitter was once viewed as a public forum where anyone could have their voice heard, and Musk has championed the platform as a bulwark against censorship. But if Twitter is a public space, "Why would you have a price for admission?" said Rick Smith, host of political podcast The Rick Smith Show. "Why would you say, well, if you pay me the eight bucks we're going to promote what you have to say over everyone else?"
Smith, who has more than 280,000 followers, was verified under the legacy process, but said he won't pay for Twitter Blue to keep his check mark. "There's no way you're going to get me to pay Elon a dime," he said. His podcast team is already exploring upstart alternatives such as Post and Mastodon in case users flee Twitter, he said. "That blue check used to mean something," said Smith. "Now it's just an emoji on your name."
The implications for some accounts, such as financial institutions, could be severe. The crypto industry is already a prime target for fraud because the industry is so new. If a verified account could impersonate a cryptocurrency brokerage, for example, it could shift entire markets by tweeting out false information. And despite Musk's claim that the system is aimed at preventing the prevalence of AI bots, he hasn't explained how that would work, because people who set up bot accounts may be willing to pay for them to look legitimate. Paradoxically, Musk has also said verified bot accounts are OK, "if they follow the terms of service and don't impersonate a human."
The new verification process does benefit users who previously had trouble gaining traction on the platform.
One example is Josh Larky, director of fantasy and gambling at the 33rd Team, who has more than 30,000 Twitter followers. Even though Larky is an employee of a verified media organization, he was never verified under the legacy system. "The old process didn't work for me," he said. When the opportunity to get verified with Twitter Blue came along, he felt it would be foolish not to take advantage of the instant credibility. "People naturally gravitate towards social media accounts with blue check marks," he said.
Kaleb Ivy, who subscribed to Twitter Blue when it first rolled out, immediately noticed an uptick in engagement on his tweets. When he briefly unsubscribed from the service a few weeks later, "It almost seemed like my posts were being buried intentionally. The engagement was nonexistent," he said. Ivy, a casual Twitter user who was stuck at 700 followers before subscribing to Blue, also saw his followers go up, and now has more than 1,000.
LaDarius Brown, a writer at Sportskeeda who subscribed to Twitter Blue a few months ago, saw his followers increase drastically since purchasing the service. Brown, who now has more than 8,000 followers, went from gaining an average of 50 new followers a month to more than 250 per month. "It took me aback," he said.
Twitter Blue existed before Musk took over but offered more limited features, such as the ability to edit tweets or change the design of the app icon. Now a Blue subscription includes access to text-message-based authentication, tweets up to 4,000 characters and half as many ads. In order to be verified, in addition to buying Twitter Blue, users need an active account with a verified phone number, display name and profile photo.
Still, Twitter's legacy verification process, even though it was free, was much more robust. To receive a check mark, users would fill out an application with their name and proof of identification, and would answer a few questions about why they were notable. Once a person was verified, they would see a blue badge and check appear next to their name, in what became a standard across social media platforms.

"In theory, there's an approval process for the Twitter Blue verification," said Jane Manchun Wong, a technology blogger and engineer who said she was the first paying Blue customer when the service was introduced in 2021. "In practice, I wonder how that will play out."

When Evan Harris, a Blue subscriber since March 24, applied for verification, the process was surprisingly easy. "I found it interesting that I wasn't asked any questions or asked to fill out a questionnaire," he said. Brown, the Sportskeeda writer, said he was approved for his blue check mark within 48 hours.

"I think the new process has been beneficial for some accounts that maybe were not notable in the everyday public eye, but very popular in some sub-genres like gaming, fantasy, football, blogging," Harris said.

News organizations such as the New York Times, CNN and the Los Angeles Times have said that they generally don't plan to pony up for Twitter verification or reimburse employees who pay to get the check, raising concerns about impersonation and misinformation under fake accounts. In November, when the new feature was announced, Bloomberg News said that it wouldn't reimburse staff for Twitter Blue accounts. Max Collins, of the band Eve 6 and a BuzzFeed columnist, said he even started blocking accounts with paid blue check marks.

Many celebrity Twitter users were also outspoken on their feelings about the cost of verification. "Welp guess my blue check will be gone soon cause if you know me I ain't paying the 5," basketball legend LeBron James, whose verified handle @KingJames has 58.2 million followers, tweeted on Friday. Actor William Shatner of Star Trek fame queried Musk directly via tweet: "Hey @elonmusk what's this about blue checks going away unless we pay Twitter?" he posted on March 25. "You're telling me that I have to pay for something you gave me for free?"

Musk's response was that there shouldn't be a different standard for celebrities. Shatner retorted that he would wait until a "false blue check" incident prompted Musk to rethink the system: "Until then I'll go #checkless," he wrote.