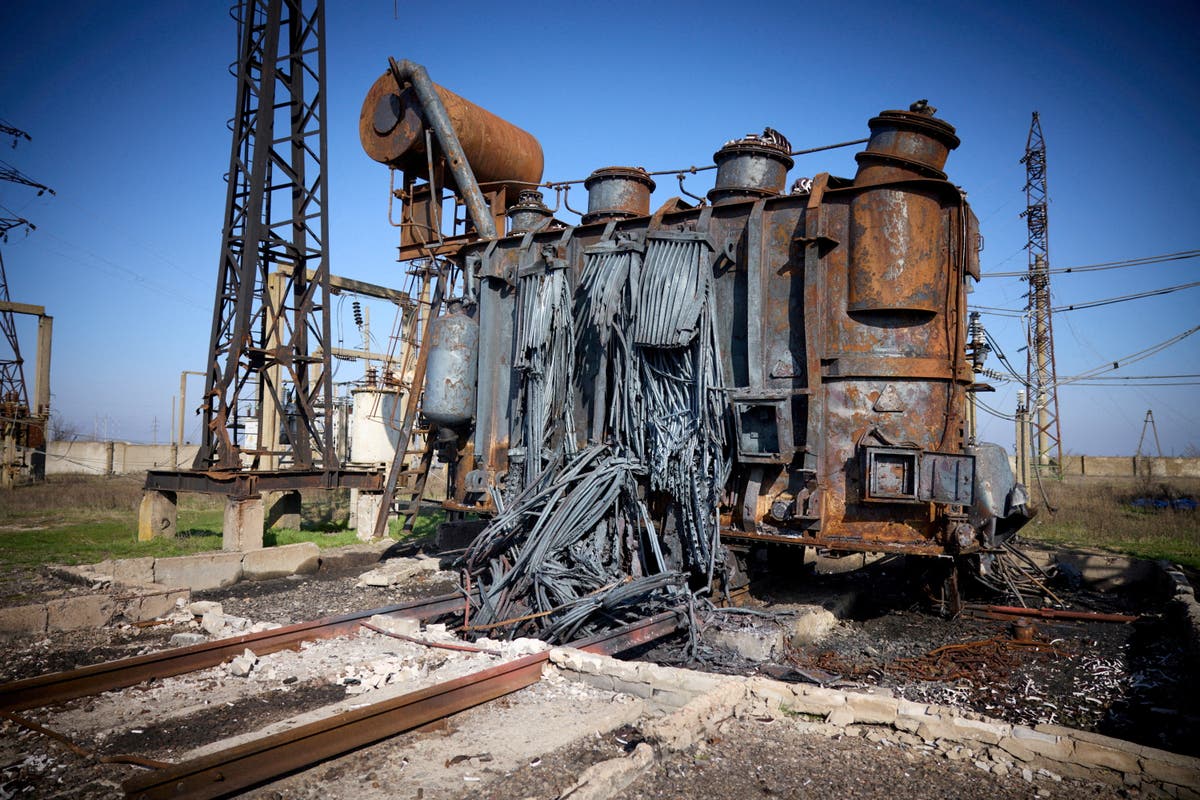 Ukraine to restart critical electricity exports again after Russian attacks 'fail'
Exports to the European Union will resume following surplus domestic supply
Ukraine is returning to exporting electricity after a six-month gap, the country's energy minister has announced.

Successful repairs have been carried out on the electricity system since Russia's strikes, Herman Halushchenko said on Friday.

Last October, Ukraine halted exports of electricity to the European Union - its main export market for energy since the war began - after its infrastructure was targeted by the Russian army.

"The most difficult winter has passed," Mr Halushchenko said in a statement on the ministry's website, noting that the system had been working normally for almost two months.

"The next step is to resume electricity exports, which will allow us to attract additional financial resources for the necessary reconstruction of destroyed and damaged electricity infrastructure," he continued.

Millions of Ukrainians suffered blackouts during the coldest and darkest winter months, including in the capital Kyiv. Many residents in the city were reported without power "for 20 or even 30 hours" in November.

But Russia's campaign to break down Ukraine's unified energy system within the past winter period has "highly likely failed", British defence chiefs said.

In its latest intelligence update, the Ministry of Defence said large-scale long-range attacks to degrade Ukraine's energy infrastructure "has highly likely failed".

The report goes on to say that Ukraine's energy situation "will likely improve" with the arrival of warmer weather.

Mr Halushchenko thanked engineers and international partners for the "titanic work" they had done to repair the system.

He said he had signed an executive document allowing electricity exports to restart, given the surplus of domestic supply.

Ukraine is currently allowed to export a maximum of 400 megawatts at any given moment to the EU.

"Electricity exports will continue to operate provided Ukrainian consumers are supplied with electricity - and may be suspended if the situation changes," Mr Halushchenko said.

In June 2022, Ukraine had said it was hoping to bring in 1.5 billion euros (£1.3 billion) from electricity exports to the EU by the end of the year.

After the invasion stalled, Russia resorted to targeting key energy infrastructure sites with the United Nations claiming 50 per cent of the network had been destroyed late last year.

Electricity was rationed domestically in October after Russia intensified its missile and drone attacks on Ukraine's power and water infrastructure.

Meanwhile British military intelligence said that Russian forces were threatening a key supply route to Bakhmut, the focus of their assault for months which Ukraine has said it is defending to wear the invaders down before its counter-offensive.

The Ukrainian military said it was holding on in the city but the situation was difficult.