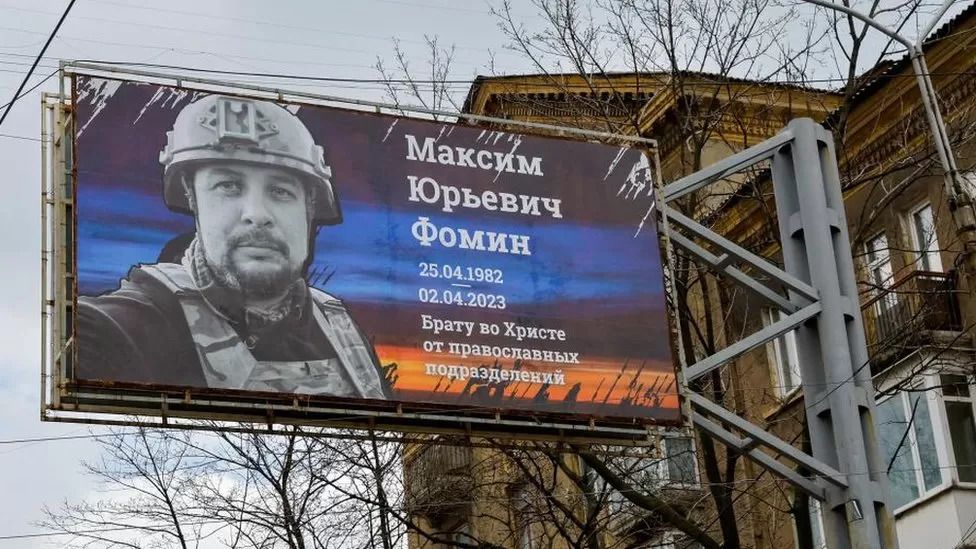 Ukraine war: Who are Russia's war bloggers and why are they popular?
Vladlen Tatarsky, who died in an explosion in St Petersburg on Sunday, was one of Russia's "war correspondents". But who are these bloggers - and why are they popular?
The writers are a loose assortment of people supporting the war in Ukraine and reporting about it, often from the front lines. They have extreme anti-Ukrainian and anti-Western views.

The correspondents - known as "voyenkory" in Russian - usually claim to have specialist military knowledge and access to Russian troops.

Some are embedded with them - and some appear to be fighting alongside them.

The degree of their affiliation with the government varies. Some are employed by Kremlin-controlled media, but others blog on social media - apparently without any links to any media outlet.

A major reason why they are so popular with Russian readers is they often offer more information than official reporting - and also offer a different, more critical perspective without questioning the need for the "special military operation".

Their emergence - after the initial invasion of Ukraine in 2014 - heralded a new chapter of war reporting in Russia.

For many, supporting the war does not necessarily mean supporting the authorities in Moscow - or, in particular, the military commanders conducting the invasion (although President Putin usually escapes criticism).

For example, the commanders were sharply criticised after a Ukrainian missile attack on a building in the occupied town of Makiivka, in which dozens of Russian soldiers died.

War correspondent Semyon Pegov, known as War Gonzo, has more than 1.2m subscribers on Telegram - one of the few major social media platforms not banned in Russia.

After Ukraine attacked Makiivka, he accused the defence ministry in Moscow of "openly trying to dodge the blame".

Another pro-war blogger, Boris Rozhin, who blogs as Colonel Cassad - with 800,000 subscribers on Telegram - accused Russian commanders of "incompetence and inability to comprehend the consequences of war".

Social media accounts linked to the Wagner private military company have been particularly critical of Russia's top brass.

And it's this criticism of the military authorities that makes war correspondents stand out from the all-pervasive Kremlin-controlled propaganda, which routinely embellishes progress of the "special military operation" in Ukraine.

Some commentators have argued that Russian military commanders feel threatened by critical war bloggers, and there have been attempts to silence them.

And popular war correspondents employed by traditional pro-Kremlin media tend to be much more accepting of the official line.

One of the most prominent is Alexander Kots, who works for the Komsomolskaya Pravda tabloid.

Responding to the killing of Vladlen Tatarsky, Kots pointed the finger of blame squarely at Ukraine - just like Russian officials did.

"Earth must be set on fire under the feet of any functionary from Kyiv," he wrote. "None of the non-humans waging war with Russia must feel safe."

Such reporters play a key role in constructing the Kremlin's narratives in the media.

For example, it was Yevgeny Poddubny, the war correspondent on Russia's most popular TV station, state-run Rossiya 1, who broke the official silence on Wagner mercenaries' involvement in Ukraine.

Reporting from the ruins of a power station in Donbas in July 2022, he unexpectedly said that the site had been "liberated" by Wagner.

This marked the start of reporting about Wagner in state-run media, which had previously ignored and even denied the group's existence.

Both Kots and Poddubny are subject to Western sanctions for their role in pro-Kremlin propaganda against Ukraine.

Many of the popular Russian social media accounts supporting the war with Ukraine are run anonymously and material they post is often extremely graphic.

One of the most infamous examples is Grey Zone, a Telegram channel affiliated with Wagner, which posted footage of the apparent murder of a "traitor" with a sledgehammer in November 2022.

Russian war correspondents often call for the destruction of Ukraine as an independent state. For example, Yuri Kotenok has called for the annihilation of the very Ukrainian identity.

"Even cancer can be cured, but Ukrainianism - never!" he once said on Telegram. "It's a type of Satanism that can only be destroyed with one thing - fire! All-consuming fire that will cleanse this filth."

Kotenok has more than 400,000 subscribers on Telegram.