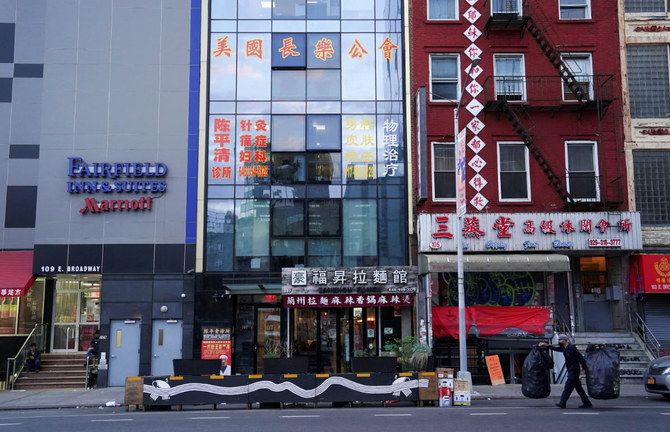 US in 'extensive effort' with partners to counter China influence operations
A day after authorities arrested two people on charges of links to a Chinese "secret police station" in New York, a US official said the United States is engaged in an "extensive effort" with international partners to counter Chinese influence operations.
Federal prosecutors said the arrests on Monday were part of a crackdown on China's targeting of dissidents, which Beijing denies. Both men arrested are US citizens.

China's foreign ministry has disputed the existence of such police stations, but has acknowledged what it says are volunteer-run sites in the US and other countries to assist overseas Chinese nationals with tasks such as renewing drivers licenses.

"We will not tolerate the PRC (People's Republic of China) government or any foreign government harassing or threatening US persons," White House press secretary Karine Jean-Pierre told reporters at a regular press briefing.

US and Western authorities have warned that China's government has increasingly exerted pressure to silence its critics abroad, often targeting people of Chinese origin through covert operations in attempts to stifle expression or coerce them to return to China where they might face punishment.

Human rights groups have also complained of threats to academic freedom and monitoring of Chinese students on international university campuses.

Rick Waters, Deputy Assistant Secretary of State for China and Taiwan, told a US House of Representatives hearing separately that Washington was aware of China's transnational law enforcement within the borders of "dozens of countries."

Waters said the US was working through public diplomacy and "private diplomatic channels" with partners who had found the same issue in their countries.

"We have been engaged in a pretty extensive effort to share what we know and to develop the tools and response options that are most effective to this unique aspect of China's influence agenda," Waters said.

Safeguard Defenders, a Europe-based human rights organization, published a report in September revealing the presence of dozens of Chinese police "service stations" in major cities around the world, including New York.