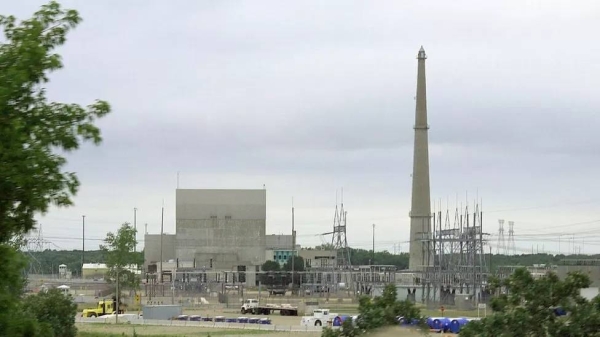 US nuclear plant reports radioactive water leak
Officials are monitoring the clean-up of a leak of 400,000 gallons (1.5m liters) of radioactive water from a local nuclear power plant in Minnesota.
Xcel Energy, the utility company that runs the plant, said the spillage was "fully contained on-site and has not been detected beyond the facility".

State officials said there was no immediate public health risk.

The leak was first discovered in late November, but state officials did not notify the public until Thursday.

The water contains tritium, a common by-product of nuclear plant operations.

A naturally occurring radioactive isotope of hydrogen, tritium emits a weak form of beta radiation that does not travel very far in air and cannot penetrate human skin, according to the federal Nuclear Regulatory Commission (NRC).

Tritium spills occur at nuclear plants on occasion, but are typically contained on-site and rarely affect public health or safety, the NRC says.

Xcel first discovered the leak on 21 November, from a pipe between two buildings at its Monticello plant. The plant is about 35 miles (56km) from the state's most populous city, Minneapolis, upstream along the Mississippi River.

The company said it had notified the state and the NRC the next day.

"Xcel Energy took swift action to contain the leak to the plant site, which poses no health and safety risk to the local community or the environment," the Minnesota-based utility said in a statement on Thursday.

State officials said they had waited to get more information before going public with the leak, but confirmed that the water remains contained on Xcel's property and poses no immediate public health risk.

The Minnesota Department of Health has said the leak did not reach the Mississippi River.

Roughly one-quarter of the spilled tritium has been recovered so far, and Xcel has said it may build above-ground storage tanks to store the contaminated water.

It is also weighing how to treat, re-use or dispose of the collected tritium and water.

The company previously had a small leak at its Monticello plant in 2009.