In a meeting with senior Chinese diplomat Wang Yi, Secretary of State Athony Blinken says he made clear that sending a "surveillance balloon over the United States" was "unacceptable".
US secretary of state Antony Blinken has met with top Chinese diplomat Wang Yi, in the first meeting between the two nations since an alleged spy balloon was shot down over America.

The hour-long meeting took place in Germany, where the pair were attending the Munich Security Conference, which debates the most pressing challenges to international security.

After the meeting, Mr Blinken told CBS: "I made very clear to him that China sending its surveillance balloon over the United States in violation of our sovereignty, in violation of international law, was unacceptable and must never happen again."
The secretary of state also repeated the words of President Joe Biden that Washington is not looking for a "new Cold War", but the country will "unapologetically stand up for [its] values and interests", his spokesperson said.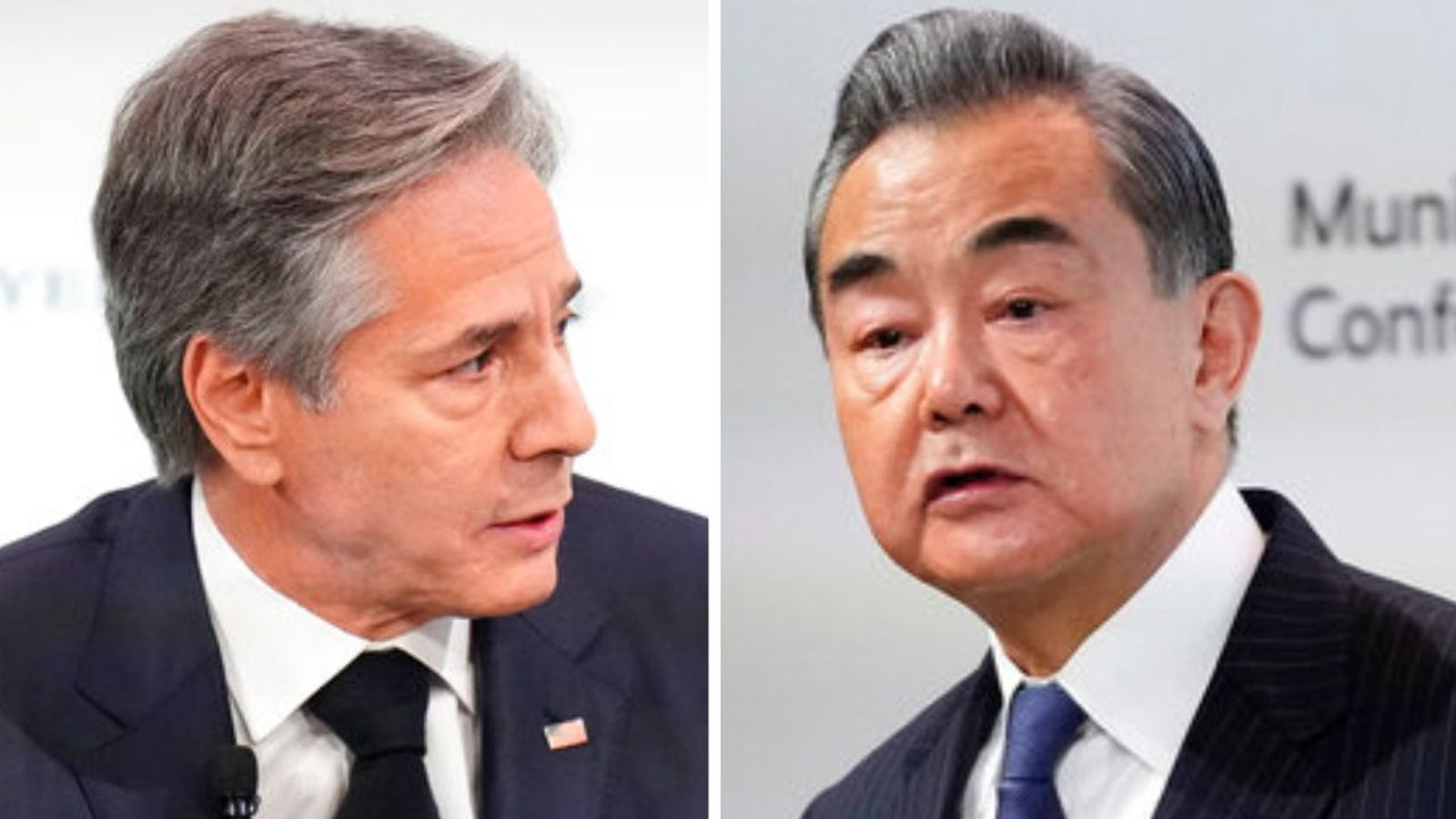 Contention between the two countries has grown since the shooting down of the balloon off the South Carolina coast on 4 February, with Mr Blinken postponing a trip to Beijing shortly afterwards.
Earlier, Mr Wang renewed Beijing's criticism of the US, arguing that shooting down the balloon did not point to the country's strength.
"The actions don't show that the US is big and strong, but describe the exact opposite," he said.
China has always insisted the balloon was being used for meteorological and other scientific research and had been blown off course due to high winds and limited "self steering" capabilities.
In addition to the balloon incident, Mr Blinken reiterated a warning to China on providing assistance to Russia in the war on Ukraine.
Mr Blinken wrote on Twitter: "I warned China against providing material support to Russia. I also emphasised the importance of keeping open lines of communication."
Concerns for the deepening relationship between Moscow and China was echoed in an address by vice president Kamala Harris, who said that "any steps by China to provide lethal support to Russia would only reward aggression, continue the killing and further undermine a rules-based order".
Not mentioning the balloon incident, Ms Harris stressed it is important for "international rules-based order" to be upheld.
In a statement shortly before Ms Harris' address, Mr Wang said that China hopes the US takes a "pragmatic and positive approach to China that allows us to work together".