Virgin Orbit is ceasing operations "for the foreseeable future" after failing to secure a funding lifeline, CEO Dan Hart told employees during an all-hands meeting Thursday afternoon. The company will lay off nearly all of its workforce.
"Unfortunately, we've not been able to secure the funding to provide a clear path for this company," Hart said, according to audio of the 5 p.m. ET meeting obtained by CNBC.

"We have no choice but to implement immediate, dramatic and extremely painful changes," Hart said, audibly choking up on the call. He added this would be "probably the hardest all-hands that we've ever done in my life."

The company will eliminate all but 100 positions, amounting to about 90% of the workforce, Hart said, noting the layoffs will affect every team and department. In a securities filing, the company said the layoffs constituted 675 positions, or approximately 85%.

"This company, this team — all of you — mean a hell of a lot to me. And I have not, and will not, stop supporting you, whether you're here on the journey or if you're elsewhere," Hart said.

Virgin Orbit will "provide a severance package for every departing" employee, Hart said, with a cash payment, extension of benefits, and support in finding a new position — with a "direct pipeline" set up with sister company Virgin Galactic
for hiring.

Hart has been giving the company's employees brief daily updates since Monday, when Virgin Orbit delayed a scheduled all-hands meeting at the last minute. Late-stage deal talks had fallen through with a pair of investors over the weekend, but Hart told staff on Monday that "very dynamic" investment discussions were continuing.

Those investor discussions continued this week, with Hart earlier saying leadership would share any updates "as quickly and transparently as we can," noting that leaking emails "is against company policy," according to copies of Hart's emails from Tuesday and Wednesday obtained by CNBC.

The company this week has been steadily bringing back more of its employees from the operational pause and furlough it began on March 15. It initially resumed some work with a "small team" a week later. Amid the broader pause, Virgin Orbit has been working to finish its investigation into the mid-flight failure of its previous launch, as well as finish preparations on its next rocket.

Shareholders unloaded the stock in extended trading Thursday, with shares selling off more than 40% after the announcement. Virgin Orbit stock closed at 34 cents a share at the end of the regular session, having fallen 82% since the beginning of the year.

A Virgin Orbit representative did not immediately respond to CNBC's request for comment.

Virgin Orbit developed a system that uses a modified 747 jet to send satellites into space by dropping a rocket from under the aircraft's wing mid-flight. But the company's last mission suffered a mid-flight failure, with an issue during the launch causing the rocket to not reach orbit and crash into the ocean.

The company was among a select few U.S. rocket companies to successfully reach orbit with a privately developed launch vehicle. It has launched six missions since 2020, with four successes and two failures.

It has been looking for new funds for several months, with majority owner Sir Richard Branson unwilling to fund the company further.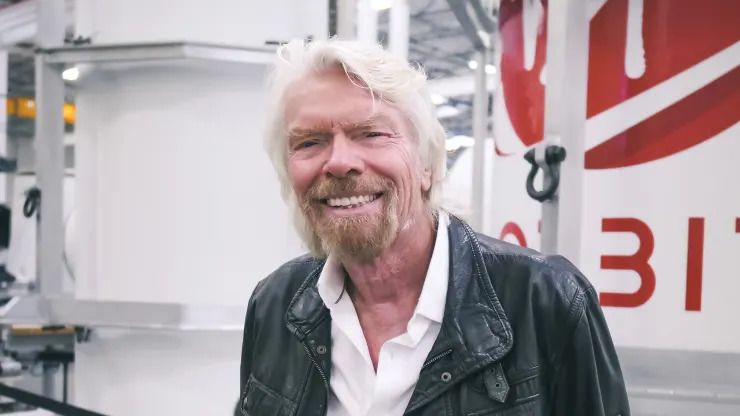 Sir Richard Branson poses in front of Virgin Orbit's rocket manufacturing.

Virgin Orbit was spun out of Branson's Virgin Galactic in 2017 and counts the billionaire as its largest stakeholder, with 75% ownership. Mubadala, the Emirati sovereign wealth fund, holds the second-largest stake at 18%.

The company previously hired bankruptcy firms to draw up contingency plans in the event it was unable to find a buyer or investor. Branson has first priority over Virgin Orbit's assets, as the company raised $60 million in debt from the investment arm of Virgin Group.

On the same day that Hart told employees that Virgin Orbit was pausing operations, its board of directors approved a "golden parachute" severance plan for top executives, in case they are terminated "following a change in control" of the company.