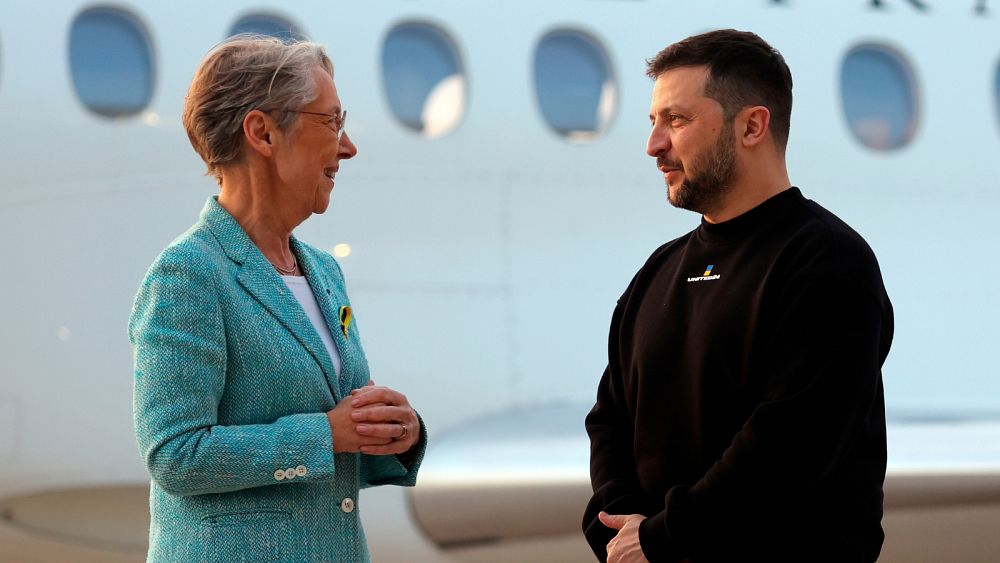 Zelenskyy makes surprise visit to Paris for talks with French leaders
The Ukranian president spent the weekend having talks in Rome, Berlin and Paris, and also met with the Pope in the Vatican.
Ukrainian President Volodymyr Zelenskyy made a surprise visit to Paris for talks Sunday night with French President Emmanuel Macron, extending a multi-stop European tour that has elicited fresh pledges of military support as his country gears up for a counteroffensive against Russian occupation forces.

France dispatched a plane to pick up Zelenskyy in Germany, where he met Chancellor Olaf Scholz earlier Sunday. Macron's office said the two leaders will hold talks over dinner and that Macron will "reaffirm France and Europe's unwavering support to reestablish Ukraine in its legitimate rights and to defend its fundamental interests."

They'll also discuss Ukraine's military and humanitarian needs and "the more long term perspectives for a return to peace in Europe," Macron's office said.

France has supplied Ukraine with an array of weaponry, include air-defense systems, light tanks, howitzers and other arms and equipment and fuel. France's prime minister and foreign minister greeted Zelenskyy off his plane that landed in the Paris outskirts, and he was whisked into the city from there under police escort.

Before flying to Paris, Zelenskyy discussed his country's planned counteroffensive with Scholz in Berlin. Zelenskyy said it will aim to liberate Russian-occupied areas within Ukraine's internationally recognized borders, and not to attack Russian territory.

Earlier this weekend he was in Rome, and also the Vatican.

US media outlets had suggested that Zelenskyy has considered trying to capture areas in Russia proper for possible use as bargaining chips in peace negotiations to end the war launched by Moscow in February 2022. This would put him at odds with Western governments that have insisted that weapons they provide must not be used to attack targets in Russia.

Asked about the report, Zelenskyy said: "We don't attack Russian territory, we liberate our own legitimate territory."

"We have neither the time nor the strength (to attack Russia)," he said, according to an official interpreter. "And we also don't have weapons to spare, with which we could do this."

"We are preparing a counterattack for the illegally occupied areas based on our constitutionally defined legitimate borders, which are recognized internationally," Zelenskyy said.

Among the areas still occupied by Russia are the Crimean peninsula and parts of eastern Ukraine with mainly Russian-speaking populations.